Sats tests: Rise in maths and writing levels in England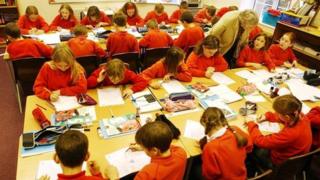 More 11-year-olds are reaching the levels expected in maths and writing, but one in four still do not make the grade for each of England's Sats tests.
National results released on Thursday show a slight improvement overall, but a small fall in the top grades awarded for reading.
Overall, 76% of pupils reached the expected level in each of the reading, writing and maths tests taken at 11 - up from 75% last year.
There was a new test this year.
This was in spelling, punctuation and grammar and 74% reached the expected level (Level 4) in that.
In the reading test, 86% made the grade, down one percentage point from last year.
And in writing - which is marked by teachers - there was a two percentage point rise to 83%.
In maths, there was a one percentage point rise to 85%.
Spelling tests
Education minister Elizabeth Truss said: "Today's figures show the majority of children are performing well and they, along with their parents and teachers, should be congratulated for their achievements.
"However, the statistics also reveal that one in four children is leaving primary school without a firm grasp of spelling, punctuation and grammar.
"The new test encourages schools to focus on these basics."
The new spelling, punctuation and grammar test includes questions asking pupils to insert missing full stops and capital letters in sentences and to identify adverbs and different tenses.
Pupils were also asked to spell words such as "familiar", "physically", "surprised", "enough", "strength" and "substantial".
In total, 139,000 pupils failed to reach Level 4 in the new test, the Department for Education said.
Girls did better than boys, with 79% reaching the expected Level 4, compared with 69% of boys.
Shadow education secretary, Labour MP Stephen Twigg, accused the Conservatives of "undermining a decade of progress" in literacy skills in primary schools.
"David Cameron and Michael Gove are threatening school standards," he said.
"We know how important reading skills are in later life, but these figures show how the Tories are failing thousands of children."