Slump in apprenticeships for adults, figures suggest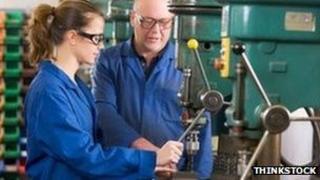 A fraction of the 25,000 adults expected to apply for apprenticeships have done so, data on applications for official loans suggests.
It shows just 77 people in England have applied for apprenticeship loans so far this academic year.
From this year, apprentices over 24 must take out a loan, usually of about £4,000, to pay for on-the-job training if their employer is not covering it.
The government says numbers are low but expects them to pick up over the year.
This is in part because apprenticeships do not necessarily start at the beginning of the academic year.
While 25,000 apprentices are expected to take out a loan - which can be paid back once they are earning a salary - a further 50,000 or so will have their training costs paid for by their employer, such as the Army.
Until this year, apprentices did not contribute to the costs. Those under 24 still do not have to make any contributions.
The National Institute for Adult and Continuing Education says although the scheme has only recently started, the very low figures now suggest that those doing apprenticeships through this route are being put off by the new requirement that they part-fund their courses.
The charity, which promotes adult learning across England and Wales, said it had previously raised concerns about the idea of charging people for on-the-job training while working, in most cases, for very low wages.
'Put it right'
David Hughes, Niace chief executive, said: "This has been one of the government's flagship programmes, but it has not been a very good start.
"This looks like a policy that's broken and we're keen to work with government, employers, providers and learners to put it right.
"Along with others we have been concerned about how loans would work in financing apprenticeships and have repeatedly called for government to take specific action to ensure that advanced and higher apprenticeships remain a viable option for adults aged 24 and over.
"What's clear is that we need to be doing all we can to ensure that more people see apprenticeships as a route worth investing in to a sustained and fulfilling career. Our economy is crying out for people with these levels of skills and experience and adults deserve the chance to learn and progress at work."
In its consultation on the plans to introduce loans for apprenticeships, the government said it was "prioritising public investment to support young people and those with low skills, where the case for direct government investment is strongest."
'Benefit to the individual'
"The need for this prioritisation is demonstrated by the overall Further Education and Skills resource budget which is reducing by 25% between 2011-12 and 2014-15.
"However, alongside this prioritisation, the government wants to provide the means for those aged 24 and over to undertake advanced and higher level training courses. The benefit to the individual of this training is higher and it is right that they should make a greater contribution to the costs of that training," it added.
Niace is urging the government to act quickly and offer subsidies for apprenticeships for under-represented groups and write off loans for advanced level apprentices who go on to take a higher level course.
This would mirror the way those on an access course have their loans written off if they go on to start a degree.
The Department for Business, Innovation and Skills said: "We are closely monitoring the take-up of these loans and will continue to do so. We recognise that under the loans system where we have had over 35,000 applications in total, the current figures for apprenticeships are low. However, apprenticeships do not typically start with the academic year so can start throughout the year."
These loans are also on offer to others who are doing adult education courses.
The government has been clear that it sees an increase in apprenticeships as a way of improving economic productivity.
The Centre for Economics and Business Research predicts that completed apprenticeships over the next 10 years could contribute up to £3.4bn a year to the UK economy through productivity gains by 2022.