Gove urged to monitor free schools 'more closely'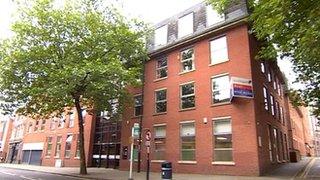 Michael Gove has been urged to monitor free schools more closely after a Muslim faith school was closed temporarily because of safety concerns.
Shadow education secretary Tristram Hunt wrote to Mr Gove saying he was concerned problems at Al-Madinah School revealed a "systemic complacency".
The government said it was looking into the school before issues became public.
A junior education minister warned the Derby free school it had 17 issues to address including poor standards.
Free schools are state-funded schools set up by faith groups, parents, teachers and other individuals and groups. They are directly accountable to the Education Secretary as they are not within the local authority sphere of influence.
Al-Madinah School was closed for seven days earlier this month after a single day of inspections by Ofsted which found incomplete records of child protection checks for staff. And concerns were raised about female teachers at the school being told to wear the hijab even if they were not Muslim.
'Temporary closure'
In his letter to the education secretary, Mr Hunt said: "In the coming days, we expect Ofsted to publish the inspection report on one of your flagship free schools, the Al-Madinah Free School in Derby.
"You will be very aware of the high level of public interest and concern generated by the recent temporary closure of the school and the imminent findings of Her Majesty's Inspectorate.
"As I am sure you will agree, there should be no excuse for underperformance in any school. But it is especially troubling that 400 pupils should be deprived of a week of schooling because a publicly funded free school failed in its duty to meet basic child safety requirements."
He added: "Moreover, the parliamentary under-secretary of state for schools has recently acknowledged that the Al-Madinah Free School is 'delivering an unacceptably poor standard of education', and I am extremely concerned that this situation could be indicative of a systemic complacency on standards."
Mr Hunt went on to ask whether Mr Gove was satisfied with current arrangements for spotting underperformance in free schools.
'Completely resolved'
He also asked the education secretary to explain how parents would be provided with a "firm guarantee that their children's education and safety is not being put at risk due to the inadequate oversight of your free school programme".
The letter also highlighted claims there were warnings from Ofsted regarding potential issues with welfare, health and safety of pupils at the Derby school before it opened in September 2012. Mr Gove was asked to explain what steps were taken to ensure that these "warnings were heeded" and that "all issues were resolved before the school opened".
The Department for Education did not address many of these questions in its statement, but it did say: "We were already investigating this school before allegations became public. We discussed the problems with Ofsted and it launched an immediate inspection.
"We have received a response from the Al-Madinah Education Trust. Any decisions made will take into account all the available evidence."
The Al-Madinah school was among the first free schools in England with a Muslim ethos, catering for all reception, primary and secondary pupils.
But concerns over the application of strict Islamic practices led to a scheduled full inspection being brought forward.
A statement on the school website said: "Unsurprisingly, there has been a number of rumours circulating.
"While unfortunate, my decision to close the school related to a short-term health and safety issue that has now been completely resolved and will not reoccur."
The school has been given a deadline of 22 October to address nine further action points and must provide a plan setting out a clear management structure by the start of November.
Ofsted is expected to publish its report on the school in the next week or so.