Free school faces closure if no improvements are made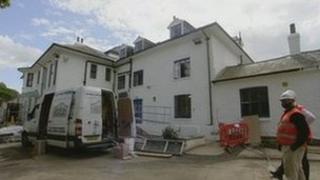 One of the first schools to open under England's free school programme is facing closure if it does not come up with a convincing improvement plan in the next two weeks.
The Discovery New School in Crawley, West Sussex, was reinspected by Ofsted this month after being judged inadequate in June.
The Montessori primary school has been open for just over two years.
Free schools are state-funded but independent.
They can be set up by groups including parents, charities, faith groups and businesses, and more than 170 have opened so far.
Like academies, they have more independence than other schools, with greater freedom over the curriculum, teachers' pay and conditions, and are not linked with local authorities.
The Discovery New School was in the first wave of 24 free schools to open.
Schools Minister Lord Nash has written to the school's governors, saying the government will terminate the contract under which the school is funded if it does not provide an acceptable action plan to improve.
He wrote: "As Ofsted report that very little progress has been made since the school was placed in special measures I remain extremely concerned about the quality of education children are receiving."
The letter goes on to say that the school's actions "demonstrate some progress, but there remain key gaps".
It states: "Due to the ongoing concern regarding the financial management and governance at the academy, including the lack of a formally agreed budget forecast, we will consider the next steps."
The letter suggests places will be found for pupils at other schools in the area if the Discovery closes.
'Fundamental flaws'
The threat of closure comes as another free school - the Al Madinah in Derby - is also under fire.
The Department for Education replaced the trust (governing body) of the school on Friday. Inspectors have described the school as dysfunctional and rated it inadequate.
In a letter to the outgoing chair of governors, Lord Nash said: "I am not satisfied that you have demonstrated a strong basis for the transformation required at the school.
"I cannot tolerate any child experiencing a poor quality of education in any state-funded school and am therefore determined to ensure there is a swift resolution."
Labour's shadow education secretary Tristram Hunt said: "As we can see from the evidence of the failings at the prime minister's flagship Al-Madinah and Discovery free schools, his changes are harming standards.
"He and his Education Secretary Michael Gove are refusing to take action to address the fundamental flaws in their schools policy that allows unqualified teachers in classrooms on a permanent basis; a lack of transparency; and a complete failure of oversight."
'Intense scrutiny'
But Natalie Evans, director of the New Schools Network, which supports groups that want to open free schools, said the majority of free schools had been rated good or outstanding by Ofsted and were providing a good education.
"Underperformance in any school is completely unacceptable given the costs to students and their families," she said.
"Despite the intense scrutiny they are under, the overwhelming majority of free schools are delivering on their promise to pupils and parents: providing excellent education whether through bilingual learning, extended days or specialist curricula."
She said swift action was being taken in the case of these two schools, while there were 350 other state-funded schools in special measures, a third of which had "languished" there for more than a year.