Young 'discouraged' from vocational skills training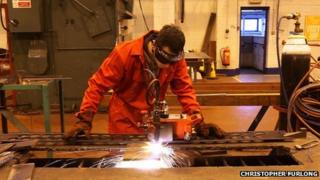 Many young people who chose a vocational route over an academic one say they were actively discouraged from following that path, a survey suggests.
Among 1,000 people questioned who followed a vocational option, just a quarter said their parents had thought it was worthwhile.
One in five respondents were told they were "too clever" for vocational education.
At the same time, about one-third said their school supported their choice.
But a similar number were told they would be "more successful" if they took an academic route.
Among those who chose academia, two-thirds said their school supported their decision.
The survey was carried out in January by OnePoll, for the Edge education foundation, among a total of 2,230 people in the UK aged 18 to 35 who are working full-time.
Roughly half of those taking part had followed a vocational route and the other half an academic one.
The research also looked at how happy both groups were in terms of their career choice, pay, success and overall job satisfaction and found "little difference" between them.
Emma Mason, 24, went to university to study accountancy and finance but soon wished she had gone straight in to the sector.
"When I was at school it was as if university was the only choice," she said.
"It was, 'Of course I'm going to uni,' and all my friends were going."
But she stayed just six weeks before leaving to train as an accountant with a company and is on her way to being a chartered accountant.
"I'm so pleased I made the decision. My only regret is not looking in to the options and not having anyone to give me the option of starting work.
"I'm getting qualified and I'm working - getting paid to learn instead of being at uni and paying to learn."
'Unjust stigma'
Jan Hodges, chief executive of the Edge Foundation, said the research showed young people could have successful and fulfilling careers whichever path they took.
"It is disappointing that so few parents and teachers see vocational education as being worthwhile. The stigma attached... is old-fashioned and unjust," she said.
"A skilled workforce is essential to the UK economy and high quality vocational routes need to be available and encouraged."
Many schools offer vocational as well as academic subjects for pupils aged 14 and over, and new University Technical Colleges and studio schools are opening in England, offering a mix of practical and academic learning.
Recently, England's Department for Education brought in separate league tables for qualifications taken by 16- to 18-year-olds, splitting them into vocational and academic qualifications.