Fresh talks over university pay claim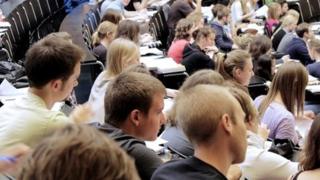 University employers and academics union bosses are set to hold fresh talks amid a continuing row over pay.
The University and College Union (UCU) and other trade unions have been taking industrial action, including national strikes, over a 1% pay rise offered to university staff for 2013-14.
UCU claimed its members face a 13% real-terms pay cut since October 2008.
The Universities and Colleges Employers Association (UCEA) claims pay rises averaged 3% overall.
It added that pay negotiations for 2014-15 were due to start next month.
'Positive dialogue'
The move comes after academics announced plans for an exams marking boycott in the UK if the dispute was not resolved.
This would mean lecturers refusing to mark exams, coursework, dissertations and portfolios of work. They would also refuse to attend meetings preparing for exams.
If implemented, this would mean the disruption of the final-year exams for those graduating this year.
A joint statement said: "UCEA and UCU have agreed to investigate with the other parties to New JNCHES [joint national committee for higher education staff] the prospect of arranging exploratory talks, involving all New JNCHES unions, prior to the first scheduled negotiating meeting of the 2014-15 pay negotiations.
"The purpose of the exploratory talks would be to seek an early positive dialogue on the key issues in the lead-up to the 2014-15 pay round."
The talks will involve the other three unions involved in the dispute - Unite, Unison and EIS in Scotland - as well as UCU.