Sir Alex Ferguson keeps belt teacher used to beat him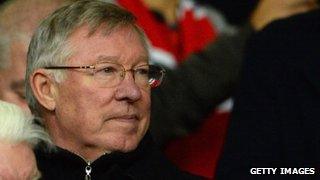 Former Manchester United manager Sir Alex Ferguson says his favourite teacher was a "fierce woman with an incredible drive" who used to beat him.
The 72-year-old, who grew up in Glasgow, says he keeps the belt he was hit with in his study at home.
Sir Alex said Elizabeth Thomson was an "inspiration", who gave him his drive and determination.
He named her as his favourite teacher in an article in the latest Times Educational Supplement (TES).
She taught him at Broomloan Road Primary in Govan in the 1940s and 50s.
It was only in 1987 that corporal punishment was banned in British state schools.
Clearly bearing no grudges for the times he was hit, "usually for fighting in the playground", Sir Alex said his teacher passed on an attitude of "never give in", which helped shape him.
'Absolute agony'
He says she made contact with him when he was playing for Rangers and that the two stayed in touch until she died, when her family sent him the belt.
"I couldn't go to the funeral because Manchester United were playing abroad, but months later I received a parcel," he told the TES.
"She had bequeathed her belt to me. Her nephew sent it to me along with a letter that said: 'You'll know more about this belt than anyone.'
"It's in my study," he added.
"My grandchildren are terrified of it. Six from that belt and you were in absolute agony. I used to try to draw my hand away.
"But that was the sort of punishment you had if you stepped out of line."
He says his teacher commanded great respect from her pupils and that, as an 11-year-old, he and five friends travelled across Glasgow - "to the posh side" - to go to her wedding.
"When I think about her now, I realise it wasn't all about education," he said.
"Mrs Thomson endeavoured to make you want to be the best you could be."
The Scot retired as Manchester United's manager last May, after 26 years in the role.
He was known for disciplining players with his "hairdryer treatment" - shouting in their faces.
He is a patron of an education charity, Shine.