University bursaries 'do not help students stay on'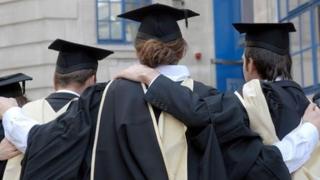 Offering bursaries to students from poorer backgrounds does not appear to improve their chances of completing degree courses, research finds.
A study by the Office for Fair Access says bursaries offered between 2006 and 2011 had "no observable effect" on continuation rates for undergraduates.
Offa says A-level grades were the most significant predictor of completion.
The government says bursaries, where proven to work, should be offered by universities to widen participation.
For the report, the university access watchdog examined bursary schemes offered to full-time first degree students between 2006-07 and 2010-11.
However, it did not examine the impact bursaries played in the post-2012 system of student fees - when tuition fees increased to up to £9,000 a year - as data for this period is not yet available.
Income and staying-on
Offa said there had been a "significant upward trend" in continuation rates from 2007-08 onwards among all groups of students.
However, the study noted that a student's prior attainment was the most significant factor in predicting the likelihood of them completing a course.
Generally, the better a student's A-level (or equivalent qualification) grades, the less likely they were to drop out of higher education.
The students most likely to be continuing with studies a year after enrolling were those who scored four A grades at A-level (or 480 Ucas points), with just 1.3% dropping out.
In comparison, 14% of students who had fewer than 100 Ucas points were no longer studying a year after starting their course.
Household income
The research also found a "clear relationship" between a student's household income and their likely university continuation rate.
In 2010-11, 3% fewer students from the low-income group (an income of less than £25,000 per annum) continued their studies compared with the middle-income group (£25,001-£50,020).
And 4% fewer students from the low income group continued their studies compared with the high income group (more than £50,020).
Offa found students from areas where young people were least likely to go to university were less likely to continue their studies than those from areas of higher participation.
In total, 89% of students from the most disadvantaged areas who started degree courses in 2010-11 finished their studies, compared with 94% of students from the least disadvantaged areas.
University pedigree
Offa found the selectivity of a university had a relation to continuation rates, with students attending institutions with higher entry requirements more likely to complete the course than those at institutions with medium or lower entry criteria.
Using statistical models to take into account other factors, such as gender, class, prior attainment, ethnicity, and income, Offa concludes that "our modelling from this data does not show that bursaries have an observable effect on continuation rates".
Prof Les Ebdon, director of Fair Access to Higher Education, said the report revealed what is most effective in helping poor and other disadvantaged students stay on at university or college.
"Previous research by us showed that bursaries do not have an observable effect on the choice of university for disadvantaged young people.
"Now this new piece of Offa analysis shows that bursaries may not be the powerful retention tool that many currently believe them to be.
"At this stage, we're not ruling out the possibility that bursaries may have an effect on retention rates - what we're saying is that, within the constraints of the data currently available to us, we have not been able to detect any such effect.
"In future, we'll have access to much richer data showing us the exact bursary amounts received by individual students and we hope that we will then be able to present more conclusive findings."
A spokeswoman for the Department for Business, Innovation and Skills said degree completion rates had been steadily improving.
"Ucas statistics out in January showed that the application rate for disadvantaged young people from England has also increased to the highest ever (20.7%).
"Our reforms mean students do not have to pay fees upfront, there is more financial support for those from poorer families and universities are already planning to spend over £700m in 2017-18 on widening participation.
"Where bursaries are targeted and proven to make a difference they should be used by universities as part of their widening participation work."