US universities top reputation league table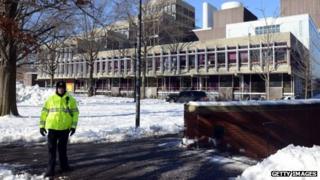 Universities in the United States dominate an international league table which ranks institutions by "reputation".
They take eight of the top 10 positions and 46 of the top 100 in a table published by the Times Higher Education magazine.
Cambridge and Oxford are in fourth and fifth positions respectively - two of the 10 UK institutions to feature in the list.
The table is based on academics' votes.
The World Reputation Rankings for 2014 are based on 10,500 responses from 133 countries to a survey sent out last May. Academics were asked to nominate up to 15 of the best institutions in their area of expertise.
Harvard University is at the top, followed by the Massachusetts Institute of Technology and Stanford University.
The US, the UK and Germany have the most institutions in the list.
Phil Baty, the editor of the rankings, says the list is dominated by "super-brands", which stand above the rest.
In the UK, he says eight of those on the list come from a "golden triangle" in the south-east of the country.
Besides Oxford and Cambridge, the institutions featured are:
Imperial College London (13th)
London School of Economics (24th)
University College London ( 25th)
King's College London (43rd)
Edinburgh (46th)
Manchester University (51-60 band)
London Business School (91-100 band)
London School of Hygiene and Tropical Medicine (91-100 band)
Mr Baty said: "The UK has lost three big-name universities from the list of the world's 100 most prestigious institutions since the rankings were first published in 2011.
"Given how important global reputation is in attracting top international talent, collaborations and investment, this is cause for concern. The UK has some of the world's biggest university brands: we must protect them."
Nicola Dandridge, chief executive of Universities UK, said the table and other rankings suggested that the UK continued to possess "one of the strongest university systems in the world".
"Rankings cannot provide a complete picture and this is just a small snapshot of our sector. University reputation is also very subjective," she said.
"What is clear, however, is that if we want to maintain this leading position, we must start matching our competitors' increased investment in higher education."
A spokesman for the Department for Innovation, Business and Skills said the UK had a "global reputation for excellence in higher education", a world-class research base and dedicated staff.
He added: "To stay ahead in the global race, we are protecting the research budget, making UK research more accessible and delivering a better student experience."