Teachers' exams wrongly marked, says schools minister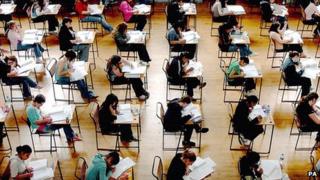 Hundreds of trainee teachers wrongly passed literacy and numeracy tests because of a series of marking errors.
More than 700 candidates were incorrectly awarded marks which meant that they passed papers they should have failed in the last academic year.
A further 27 students were judged to have failed tests they should have passed, and did not go on to pass in subsequent attempts.
Some of the mistakes date back at least as far as April 2010.
The errors were revealed in a written statement from Schools Minister David Laws, and relate only to England.
Retrospective passes
Until April 2012 the tests were administered by the Training and Development Agency. When that body was abolished the role was taken on by the Teaching Agency, which merged into the National College for Teaching Leadership in April 2013.
The Standards and Testing Agency took over responsibility for the tests last November, and the mistakes were exposed when that body conducted a review.
Mr Laws said that the people who had been incorrectly failed would now be given retrospective passes.
However no action would be taken over the candidates who had been wrongly judged to have passed the tests.
"With respect to those candidates who were incorrectly awarded a pass, many will have subsequently gone on to undertake the other steps necessary to gain Qualified Teacher Status, or be in the process of doing so, and will, through this, have had to demonstrate their competence to teach," Mr Laws said.
"Indeed, even had these candidates been properly failed at the point of taking the test, it is likely that many would have retaken the tests and been passed at subsequent attempts.
"Given these points we are satisfied that no further action in respect of these people is required, indeed it would be unjust to them to do so."
Mr Laws added that it would require "extensive data analysis" which would take six months and cost an estimated £140,000 to find out how many students were affected by the errors prior to October 2012.
This would not be a good use of taxpayers' money and will not be carried out, he said.
Mr Laws also said that the Standards and Testing Agency's chief executive had given assurances that the tests were now "reliable, accurate and fit for purpose."