MPs warn over care homes 'far from home'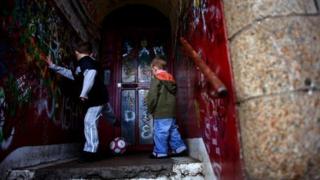 Children in residential care in England are being sent too far away from their own communities and families, a committee of MPs has said.
The MPs called for a 20-mile limit on placements to encourage local authorities to develop more care homes.
They also suggested children in care should have a greater say in the selection of their own care workers.
A Department for Education spokesman said "the protection and well-being" of children in care had been strengthened.
Tighter regulation
In January, the government brought in rules aimed at making residential care safer, with stricter scrutiny of where councils place children in care.
The regulations also mean new homes can only open in "safe" areas and homes already open in "less safe" areas must be able to show that they can protect children - or face closure.
The House of Commons Education Select Committee said it welcomed these changes and the government was addressing the main challenges facing the sector.
However, it said: "It is a matter of great concern to us that there are children's homes situated in areas where the risk to the safety of young people is increased considerably."
The cross-party committee of MPs urged ministers to "closely monitor" the impact of new risk assessments and report back to the committee within a year.
The report said more needed to be done to improve placement stability so that "a series of short-term moves is avoided" and the culture and leadership of children's homes was an "area which deserves much greater attention".
The MPs recommended the children themselves had a greater say in which adults were appointed to care for them.
"We agree that if children in care played a greater role in selecting care workers, they would be more likely to find staff that they could relate to," the report said.
"We recommend that the government works with local authorities and children's homes providers to set up pilots where children in care are given a greater role in selecting their care workers."
'Dangerous areas'
Committee chairman Graham Stuart said: "It is a matter of great concern that children are being placed in homes located in unsuitable and dangerous areas.
"The government must act if its latest reforms do not adequately address this problem."
He added: "We are deeply concerned about the number of children being placed in homes far from their own communities and families because of a lack of accommodation nearer to home. This should only happen where it is the right decision to best meet the needs of that child.
"The government should look at the impact of introducing a 20-mile limit on placements to increase incentives on local authorities to develop more facilities."
Mr Stuart said committee members had been shocked by what they had learned about the locations in which some children's homes were situated.
The MPs' report also said they were "disappointed by the way in which the DfE has communicated with us during this inquiry".
It said copies of responses to government consultations on the issue had been received "too late for the views and information in them to be properly reflected in our inquiry".
"We regret the failure of the Department for Education to provide us with the responses received to its consultations in good time without good reason," it said.
"We recommend that a clear protocol be established for the provision of such responses in future."
The Department for Education said the report recognised that improvements had been made in protecting children in residential care.
"We have been clear that children should only be placed out of area when it is in their best interest. We have already changed the rules so that any such decision must be approved by a senior council official," said a department spokesman.
"We have also increased transparency about the location and quality of children's homes, and are working closely with Ofsted to improve inspection. Children's homes, the police and councils are now working much more closely together when children are at risk of going missing.
"We have been clear in our evidence to the Committee that our ambitions do not end here, and we continue to work closely and tirelessly with councils and children's homes to achieve the best outcomes for children in care."