Free school run by private firm fails inspection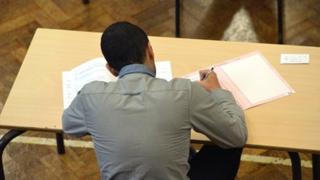 A free school operated by a private, for-profit Swedish company has been put into special measures by Ofsted.
IES Breckland broke new ground in funding arrangements when a Swedish firm won a £21m contract to run the Suffolk school for 10 years.
Inspectors are believed to have found inadequate teaching, poor behaviour and too few pupils making good progress.
Internationella Engelska Skolan, which runs the school in Brandon, said a plan for recovery was already in place.
A Department for Education spokesman says it will take "tough action" if the school fails to improve.
The secondary school, which opened in autumn 2012, had been seen as pushing the boundaries of private-sector involvement in running state-funded schools.
Free schools cannot be run for profit, but at IES Breckland a private firm was paid to run the school on behalf of the not-for-profit trust. This contract includes a management fee.
It was a controversial project, with teachers' union leader Chris Keates declaring in 2012: "State education is now well and truly up for sale to the highest bidder."
Pupil disruption
Since winning the contract to run the Suffolk free school, Internationella Engelska Skolan (IES), was itself bought by a private equity firm.
IES runs a chain of 22 schools in Sweden and plans to expand further.
The inspection report, which has not yet been formally published by Ofsted, is expected to identify a number of weaknesses in the school.
These include a suggestion that in some subjects, including English, standards of students' work had declined since they started the school.
The school says it will be recruiting more specialist staff and reducing the problem of pupils facing frequent changes of teachers.
There will also be a review of behaviour policy to address concerns about pupils disrupting lessons.
Alison Tilbrook, principal of the school, said: "The changes we are now making in the school will have positive effects which will be felt by all."
She said she was committed to "turning around the fortunes" of the school.
An IES spokesman denied that there was any link between Ofsted's concerns and how the school was funded.
He said that IES was not making a profit from the school and had invested more than it had received as a management fee.
Christine Blower, leader of the National Union of Teachers, said: "Parents and students at this so-called pioneering school have been badly let down, not only by the school's private operators but by the government which has sold them the lie that free schools can provide them with a better offer than their state school neighbours."
A Department for Education spokesman said: "As with any school found to be inadequate, we now expect the Trust to make rapid improvements and we will not hesitate to take tough action if they fail to do so.
"We have demonstrated before that where we find failure — whether in council-run schools, academies or free schools — we will act swiftly and decisively. A number of sanctions are available to deal with sustained poor performance, ranging from bringing in external expertise to more serious steps."