Free school meals threat to poor pupil funds, say heads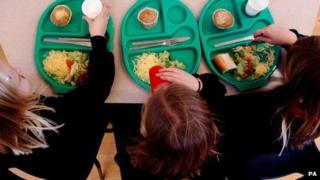 Head teachers are concerned that pupil premium cash for poorer pupils could be undermined by the introduction of free meals for all children in the first years of primary school in England.
Schools claim pupil premium cash based on numbers eligible for free meals.
But when all pupils starting school will be entitled to free meals, there will be less incentive for parents to come forward for means-testing.
Head teachers want this information to be gathered centrally.
It is understood that heads' leaders are to meet ministers to discuss their fears.
A Department for Education spokeswoman said: "Schools will continue to receive pupil premium funding on the same basis as now."
Wide variations
The National Association of Head Teachers is concerned that schools might lose funding as an unintended consequence of introducing free school meals for the first three years of primary school.
Pupil premium funding is intended to help provide more support for children from poorer families, with primary schools currently claiming £953 per year for each eligible child. This is expected to rise to £1,300 per pupil next year.
But payment is based on whether children are eligible for free school meals and if families do not register to claim, the school does not get the money.
Head teachers are concerned that from September, when all pupils in the first three years can have a free meal, it will be much harder to get eligible families to come forward to show they are poor enough to qualify.
Head teachers want data to be shared between government departments, so that pupil premium funding will not depend on gathering information at the level of individual schools.
At present, when parents have the incentive of free school meals, there are already wide variations in the level of claiming eligibility.
Not claiming
According to Department for Education figures, across England an average of 11% of families entitled to free meals do not claim them - which means that their schools do not receive the pupil premium funding.
But in Bracknell Forest this level rises to 38% of entitled families not claiming, 29% do not claim in Surrey and 22% in Essex.
The highest levels of claiming are in the North East and in inner London, where some boroughs claim 100% take-up rates.
Among the reasons suggested for not claiming has been embarrassment at having to come forward for means-testing.
The eligibility criteria for free school meals include families claiming jobseekers' allowance, income-related employment and support allowance and those receiving child tax credit and with an income less than £16,190 per year.
The NAHT says there have been successful projects in areas piloting free meals where extra efforts have been made by local authorities to make sure parents continue to register their eligibility for free school meals.
A Department for Education spokeswoman said that in places which had already introduced such free meals for all pupils there had been an increase in registration.
"There is no reason why this should not be repeated across the country," she said.
"There will continue to be a very strong incentive for parents to sign up - at £1,300 per child the pupil premium will mean significant extra support for their child. Schools also have a very strong incentive to identify eligible parents."