Poor parent-child bonding 'hampers learning'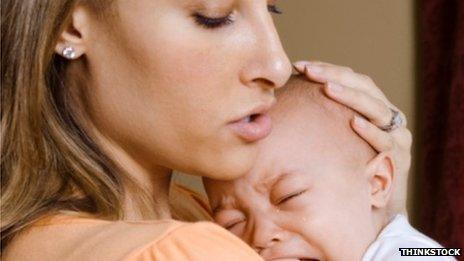 The emotional bond a child secures with its parents has a greater impact on its education than previously thought, a report suggests.
The Sutton Trust study says children's early attachment to parents has far-reaching consequences for their ability to speak, learn and think.
Parents who are insecure themselves find it harder to provide children with security, it says.
And the report calls for more help so parents can develop such crucial bonds.
The study focuses on the application of the theory of attachment - a key theory in child development and psychology.
This says the degree to which children are secure and resilient as they grow up depends on their own early experiences with their mothers and fathers and how they have bonded.
But the report from the Sutton Trust education charity, entitled Baby Bonds, makes the case that it has an important impact on children's future educational chances as well as their emotional well-being.
It is based on an analysis of more than 100 studies on the issue, including home visits and assessments and observations of children in a range of countries.
The trust argues that although psychologists have been aware of attachment theory, it has not been seen by policy makers as a key influence on educational attainment. And it asks them to take this into account.
The report says when babies and toddlers do not form these strong parental bonds - known as secure attachment - they are more likely to exhibit poor language and poor behaviour before they reach school.
And it cites international studies which suggest this continues late into life, with insecure children more likely to leave school early or duck out of employment or training.
They are also more likely to suffer from aggression, defiance and hyperactivity later in life.
The Sutton Trust says its analysis of the research suggests that about 40% of children in the UK lack a secure attachment with their parents.
Lead author Sophie Moullin said that when her team looked at large scale representative studies in a number of countries they all found, from their observations, that between 38% and 42% of children suffered from poor attachment in all the different study locations.
She added: "Secure attachment really helps children with emotional and social development and at school it really helps them to manage their behaviour. These are the things that teachers will tell you that are stopping children from learning.
"It's really only as we understand more about these behaviour problems that we have decided that a lot of it goes back to this early bonding with parents."
Research director at the trust Conor Ryan said: "Better bonding between parents and babies could lead to more social mobility, as there is such a clear link to education, behaviour and future employment.
"The educational divide emerges early in life, with a 19-month school readiness gap between the most and least advantaged children by the age of five.
"This report clearly identifies the fundamental role secure attachment could have in narrowing that school readiness gap and improving children's life chances.
"More support from health visitors, children's centres and local authorities in helping parents improve how they bond with young children could play a role in narrowing the education gap."
Related Internet Links
The BBC is not responsible for the content of external sites.