Many primary school teachers 'ill-equipped' to teach languages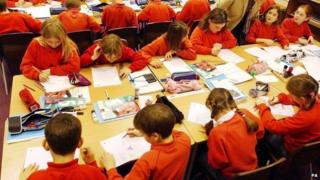 Almost a quarter of primary schools in England have no staff with a language qualification higher than a GCSE, new research suggests.
All schools in England will be expected to give seven to 11-year-olds language lessons from September.
But the annual Languages Trends Survey, which polled 591 primary schools, showed many teachers were not confident about the changes.
The government said its reforms were "driving a languages revival".
The study, published by the CfBT Education Trust and the British Council, examined the state of foreign language learning in English schools in 2013-14.
Rusty O-levels
It found that in 23% of primary schools surveyed, the highest language qualification held by teachers was a GCSE - while 31% said they had teachers with an A-level in a foreign language.
Just 30% of those polled had a teacher with a language degree - down from 40% last year.
One teacher said: "Most staff feel ill-equipped to teach foreign languages. As a teacher you want to feel confident that you know your subject matter well.
"A rusty O-level and only being a page or two ahead of the children is not ideal."
The study also warned England's primary schools were falling further behind their European neighbours.
While some European countries were now trying to offer pupils a second foreign language, English schools struggled to ensure all children knew the basics of one, its authors noted.
The study said many primaries did "not have access to teaching staff with specialist training in the teaching of languages to young children".
It added that "many primary classroom teachers have neither sufficient knowledge of another language nor sufficient confidence in their language skills to be able to teach a language to the level expected in the new national curriculum".
The introduction of compulsory language teaching was welcomed by many schools, but there was concern among teachers, the survey said.
Some 85% of primaries surveyed backed the change and 42% said they already met the new criteria.
But 29% of teachers said they were not confident about giving foreign language lessons. That figure has risen 2% in the last year.
Encouraging signs
The report also polled 415 state secondary schools in England.
In this category, its results suggested that the English Baccalaureate (EBacc) - which requires pupils to score at least C in a language as well as other subjects at GCSE level - had had a positive impact, with a rise in the number of secondary schools where more than half of students take a language.
But just 27% of those surveyed ensured pupils could continue the language they learned at primary school.
And authors said "many lower-ability pupils do not learn a foreign language at all".
Co-author Teresa Tinsley said there were "encouraging signs", but stressed: "Our findings show there is still much to be done before language teaching and learning in English schools can be given a clean bill of health. "
A Department for Education spokesman said: "After years of decline, our reforms are driving a languages revival in schools.
"Our EBacc has already meant that thousands more pupils are studying languages at secondary school - almost half of state-school pupils entered languages at GCSE last year, the highest level for seven years."
He added that the government was spending £350,000 to support compulsory language teaching for seven to 11-year-olds.
The study applies to England. No comparable figures were produced for Scotland, Wales or Northern Ireland.