Decline of overseas students at England's universities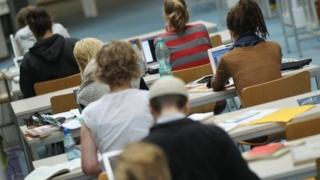 The number of overseas students taking up places at England's universities decreased by 4,595 in one year - the first fall in 29 years.
International and EU student numbers fell from 311,800 in 2011-12 to 307,205 in 2012-13, the Higher Education Funding Council for England reports.
Since April 2012, foreign students have faced stricter visa regulations.
But the government stressed that there was no cap on the number of legitimate students who can study here.
Indians and Pakistanis
The Hefce report - Global demand for English higher education - said there was a notable decline in the number of entrants from South Asia, particularly India and Pakistan, at both undergraduate and postgraduate levels.
The number of Indian students fell from 18,535 in 2010-11 to 13,250 in 2011-12 and further to 10,235 in 2012/13.
In 2010-11 the number of Pakistani students was 4,580, but this fell by 38% to 2,825 in 2012/13.
The data also shows the number of full-time EU undergraduates fell by almost a quarter in just one year - from 23,440 in 2011-12 to 17,890 in 2012-13 after years of increasing numbers.
These students have to pay the same fees as UK students and Hefce puts the decline in numbers down to the increase in tuition fees in September 2012.
The report said the fall in overseas students was particularly noticeable in the postgraduate market.
Between 2010-11 and 2012-13, the numbers of international students starting full-time postgraduate courses in England decreased by 985 from 72,245 to 71,260.
The data also shows Chinese students account for 23% (26,860) of the total full-time postgraduate numbers in England, while UK students account for 26% (30,320)
'Welcoming climate'
Under the Tier 4 visa regime, students face tougher questions about their destination, limits on their ability to work and tighter rules on their English-language capability.
Critics of the rules said they would discourage international students - who are worth as much as £3bn a year to UK universities - from studying here and give the impression that the UK was not a welcoming destination.
Last May, Business Secretary Vince Cable warned that the public debate about immigration was in danger of damaging the "economically valuable" recruitment of overseas students to the UK.
Mr Cable said overseas students had become caught up in the "public panic" over migrant numbers.
Hefce chief executive, Professor Madeleine Atkins, said the analysis increased understanding of global demand for English higher education.
"International students enrich our universities and colleges - and our society - academically, culturally, and through their contribution to the economy," she said.
"Supporting high-quality international education is a crucial part of ensuring that the UK continues to engage with, and benefit from, the increasingly interconnected world."
'Huge contribution'
A spokesperson for the Department for Business, Innovation and Skills said: "International students make a huge contribution - boosting our economy and enhancing our cultural life.
"That is why there is no cap on the number of legitimate students who can study here. By working with other countries we will continue to attract international students and promote the UK's expertise in education."
Nicola Dandridge, chief executive of Universities UK, said: "If the UK wants to fulfil its potential in this growth area, we need policies to attract qualified international students to the UK.
"This is why in the run up to the general election, Universities UK will be calling for a growth strategy for international students.
"This should be supported by a welcoming climate for genuine international students, with visa and immigration rules that are proportionate and properly communicated."
General secretary of the Universities and Colleges Union, Sally Hunt, said: "As we face continued uncertainty about the future of funding for our universities, the government should be doing more to encourage foreign students.
"Ministers need to recognise that attempts to sound tough on immigration at home are also reported elsewhere and it is not surprising if students consider studying in the countries that make an effort to welcome them."