When little voices take to a big stage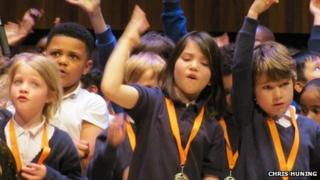 The sound of excitable children squealing with joy fills the auditorium of the Royal Festival Hall.
On the stage, 900 five-, six- and seven-year-olds sit cross legged.
"Five, four, three, two, one and s-s-sh!" says the conductor.
"Well done children. Very quiet."
They launch into their first number, with wobbly legs and dry lips over missing front teeth - but as it gets into full swing, they start to relax and make their matching dance movements with ever-growing confidence.
A rainbow of different coloured uniformed arms, representing the 50 schools taking part in the Lambeth Music Festival, go up like a Mexican wave across the stage.
'Big voices'
And the audience of proud parents respond by raising their iPads and mobile phones to record the occasion.
As the repertoire progresses, small sections get a little over-excited with their hand movements and the odd person gets an unintentional smack in the face. But they don't seem bothered - it's just too exciting.
This mass choral effort is the result of months of hard work by pupils, their class teachers and the staff from Lambeth Music Service.
Festival organiser, Oliver Bayley, says: "In a lot of the schools the kids have big voices but when it comes to performing, they can feel really small. It's our job to help them with that.
"The effect, schools tell us, is that the children grow in confidence. It's quite daunting for a child, for an adult even, to perform on a stage of world renown like this."
Started 13 years ago, the festival aims to give children the chance not only to sing and play together in a school, but across Lambeth, says Lambeth council's education improvement adviser Judith Hare.
Encouraging involvement was not always so easy, Mrs Hare adds: "When we started we had quite a few children from disadvantaged backgrounds who would not set foot in a place like the Royal Festival Hall because their parents thought it just wasn't for them."
But now parents are milling around comfortably and excitably like the South Bank is a second home.
Taking part in a performance like this can be a seminal moment in a young person's life, she says, adding that there are also returns for children's self-esteem.
"With music, unlike sport where there has to be a winner, in music they are working together as a team for the benefit of the whole."
Teacher Jennifer Ross has brought her Year 2 class of five- and six-year-olds along to the performance after spending the past few months drip-feeding them the festival songs at every opportunity.
"The benefit of doing a whole class performance is that it really works well in terms of class cohesion," she says.
She says the whole experience has also improved the children's behaviour and ability to learn.
"When children are engaged with music and listening to music there is no disruptive behaviour because they are so fully engaged with what's going on," she says.
Because of Lambeth's inner-city location, there are many pupils who have English as an additional language or are coping with substantial disadvantage.
Language boost
Take the very smiley six-year-old Pauline - a recent arrival from Cambodia.
"When she arrived she was classed as having Stage 1 or very basic English," says Ms Ross.
"There were many times when she couldn't get across how she felt. But through all the singing and dancing, she has gained confidence and developed her speaking."
And this educational side-effect of the choral experience was part of the reason Lambeth set up the annual children's music festival.
Mrs Hare says: "There is a lot of research to show that if you play a musical instrument - the connections in the brain are stronger. People with a music background tend to achieve more academically."
The Lambeth Music Service, with its £250,000 annual state funding, borrows much from its perhaps better known Venezuelan counterpart, El Sistema - a state-run organisation that oversees scores of youth orchestras, instrumental training programmes and choirs.
El Sistema has 31 symphony orchestras, and up to 370,000 children attend its music schools, studying intensively for 12 hours a week after school.
Set up in 1975, El Sistema is a most resilient survivor of the troubled and changing nation and sends its musicians touring the globe's most famous concert halls so high is its standard.
Head of Lambeth Music Service, Brendon La Page, says: "Venezuela has had one of the most ridiculous political histories, and over the last few years there have been coups and internal wars, but El Sistema has survived all of this."
Some 90% of El Sistema students are said to come from poor backgrounds, but some say it tends to be the children from the more organised families who access the opportunity.
Meanwhile Lambeth's music service funding has been cut by about 20% over the past few years, says Mr La Page.
But it is still managing to provide music tuition, based mainly on whole-class teaching, to all Lambeth pupils.
"Where we differ from El Sistema is that we cater for all 27,000 children across Lambeth's schools. We are messianic and completely committed to giving every child a high quality musical experience.
"No-one escapes," he says.
And judging by the reluctance of these Lambeth children to leave the stage - they don't want to.
The Simon Bolivar National Youth Choir of Venezuela will be joining the young Lambeth festival participants for some informal choral action before a more formal performance at the South Bank on Saturday. The events are part of Chorus Festival at the Royal Festival Hall.