Tougher A-levels and GCSEs for arts subjects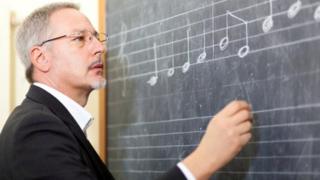 A-levels and GCSEs in arts subjects in England, including music, drama, art and dance, are to be made more "rigorous and demanding", Education Secretary Michael Gove is to announce.
They will be taught from September 2016, alongside changes to A-levels in RE and design and technology.
Mr Gove is also expected to reveal the content of tougher, new-look GCSEs in subjects such as history and geography.
Schools should "nurture creative talent in every child," says Mr Gove.
The announcements will set out the next stages of the government's programme of exam reform, with changes being phased in over the next few years.
Higher grades
Arts subjects are the latest to be revised, with new GCSEs in art and design, music, drama and new A-levels in music, drama and dance.
Exam boards and experts will help to devise the content.
Deborah Annetts, chief executive of the Incorporated Society of Musicians, said she was delighted that work on revising GCSE music is "going to come to fruition".
A-levels in design and technology, PE, and religious studies will also be revised.
The education secretary is expected to announce details of exams which are further along the process of being redesigned.
This will include setting out what will be taught in GCSE history, geography, sciences and modern languages.
This will bring them into line with the three GCSE subjects which are to be revised first - English literature, English language and maths.
Last week, exam regulator Ofqual announced that these would be graded from 9 to 1, with the highest grade to be twice as hard as an A*.
Changes to the structure of exams have already been announced - such as shifting from modules to exams at the end of two years.
The revised content of a raft of A-levels is also set to be announced, including art and design, business, computer science, economics, English literature, English language, English language and literature, history, biology, chemistry, physics, psychology, and sociology.
These will be taught from September 2015.
Darren Henley, author of a review of cultural education, backed the plans for arts subjects: "I strongly believe that all children can and should benefit from receiving a wide-ranging, adventurous and creative cultural education.
"Studying subjects such as art and design, dance, drama and music helps young people grow into well-rounded, knowledgeable and skilled individuals."
The education secretary said: "I am passionate about great art, drama, dance, music and design, and I am determined to ensure every child enjoys access to the best in our culture. I also want all schools to be able to nurture creative talent in every child.
"That is why I am delighted that new high-quality qualifications in creative and cultural subjects will be made available to all students."