Ofsted is 'broken and fallible', say teachers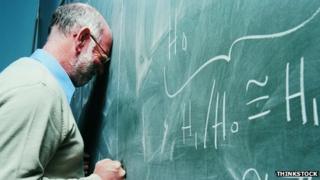 Teachers have accused England's education watchdog of being broken and not fit for purpose.
They say pressure from Ofsted forces heads to strive for the perfect school, putting staff under unbearable strain.
The Association of Teachers and Lecturers (ATL) wants school inspections to be subject to an "inspection charter".
Ofsted said their reports were a valuable source of information for parents.
At its annual conference in Manchester, the ATL unanimously backed a motion calling for greater scrutiny of inspectors to ensure consistent results across the country.
Delegates said that, all too often, the results of an Ofsted inspection depended on the team of inspectors who turned up at the school and on the day or time of year when they arrived.
'Distorts teaching'
Simon Clarkson from Leicestershire backed the motion, saying: "Ofsted is like a big rock distorting the fabric of education.
"The consequences of its decisions, both negative and positive, are so vast, it needs to be infallible. The problem is, it is not.
"So to make up for that, to work within the error, to negate the standard deviation, school leaders try to create the perfect Ofsted school."
Mr Clarkson said every child had a target and an intervention strategy and every lesson had to have a detailed lesson plan.
"Ofsted don't demand this, but because they are so subjective, because they are so fallible and because your job, the school's future and your leadership team's future depends on what they say, our head teachers now routinely demand the impossible.
"We need to stop the madness. We need to stop the 'Alice in Wonderland' management of our schools and, as part of the way of doing that, we need to fix the distorted looking glass that is Ofsted, that is distorting the very way we teach.
"Ofsted is broken, it needs fixing."
Fear
Pat Kyrou from Essex said: "Ofsted is the enemy. Ofsted is what we fear.
"Is it the purpose of Ofsted to so stress that they are less able to teach? Is it the purpose of Ofsted to use dubious evidence to pronounce schools inadequate so that they are forced to become academies?
"Ofsted - it is not your role to terrify teachers. It is not your role to force teachers to teach in a way that is less beneficial to the pupils.
"It is not your role to alter the governance of schools. It is your role to help teachers give the best education to pupils.
"Ofsted - we want the same as you should want, to make the education children are receiving as good as possible."
An Ofsted spokeswoman said: "Ofsted has played a major part in raising standards in England's schools over the past 21 years.
"Our reports remain a valuable and independent source of information for parents, carers and the wider public.
"As Her Majesty's chief inspector has said, Ofsted does not expect schools to adopt a particular way of teaching.
"However, we have toughened our inspection frameworks over recent years and schools are rising to the challenge."
In a speech last month, Sir Michael Wilshaw said routine inspections of the majority of England's schools - those rated as 'good' - would be ditched in favour of short visits from one inspector every two to three years.
Full inspections would be reserved for struggling schools, or those on the verge of being rated "outstanding", he said