Police 'still not listening', Lawrence tells teachers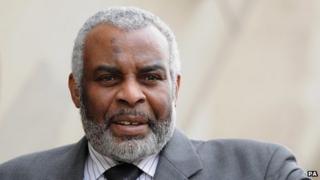 The father of murdered teenager Stephen Lawrence claims police are "still not listening" about how to build bridges with the black community.
Speaking to members of the Association of Teachers and Lecturers (ATL) conference in Manchester, Neville Lawrence said respect was crucial.
Mr Lawrence said stereotyping people as "thieves and robbers" backfired when officers needed information.
The Metropolitan Police said ethics and standards were their core values.
Mr Lawrence was invited to speak at a fringe meeting at the ATL's annual conference in Manchester, as the union sets up a new network for black and minority ethnic (BME) teachers.
He said: "I've been working with the police for the last 20 years, going into different parts of the organisation, explaining to them the way they should be treating the public when they stop them, making them realise that when they go into communities, if they treat the community badly and then there's a crime in the community, they won't be getting any information.
"I think something which I've tried to explain to them, but they're still not listening, is you can't say to a group of people in a community 'you're all thieves and robbers' and then when there's a situation and they go in there for information, the first thing they're going to tell you is, 'I'm a thief, I'm a robber, why are you asking?'"
Representatives of the law
Mr Lawrence went on: "When they put on a uniform they are representing the law. They are not the law.
"When they go out and abuse the young blacks and the young whites on the street, that message goes back to the rest of the community and so they are seen as bad police officers.
"That one police officer does cause so much damage to the whole force. That officer might be a good officer, does his job in the right and proper way, but from that one incident the whole force is branded as 'bad'."
He said he had told police: "You have to be in the community, you have to be seen in the community so that when people are in trouble they know they can come and talk with you.
"You can't be driving along in your car, riding along on your motorbike up and down the community, and not get to know the community.
Respect
"You have to show respect to get respect."
A spokesman for The Metropolitan Police said: "We have worked with both Mr Lawrence and Baroness Lawrence over the years and The Met has has worked hard to build a trusting relationship with them to help us achieve our aim of convicting all those responsible for Stephen's death - an aim we still hold.
"The Met Police will fully support the Public Inquiry as we move forward.
"The Commissioner has made it clear that he is a reformist, that ethics and standards are our core values and they cannot be compromised."
Stephen was 18 when was murdered by a white gang in April 1993 as he waited with a friend at a bus stop in Eltham, south-east London.
His family fought for nearly two decades to bring two of his killers to justice.
Mr Lawrence's surviving son Stuart has spoken out against how the Metropolitan Police use stop and search, and revealed last year that he had been stopped 25 times.
One officer who stopped him in November 2012 later faced misconduct proceedings.