Overheated schools make menopause 'worse' for teachers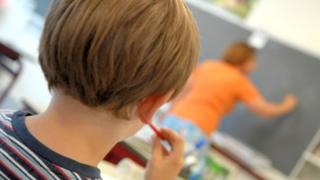 High temperatures, poor ventilation and lack of drinking water in schools can make the menopause particularly tough for teachers, a conference has heard.
The National Union of Teachers (NUT) has voted to provide better support for older women teachers.
The union's conference has heard claims schools are targeting teachers over 50 to force them out of their jobs.
The NUT says there has been a marked increase in casework involving teachers in this age group, particularly women.
The motion debated at the union's conference in Brighton argues that recent changes to appraisal and capability procedures for teachers mean schools are able to target individual members of staff more easily.
It adds that older teachers are more likely to be on higher pay scales and are therefore seen as relatively expensive by schools.
'Increased stress'
It also points out that women make up the vast majority of members of the teachers' union.
The menopause may mean that some teachers may find it hard to cope with some aspects of their jobs, the conference will hear.
"Menopausal women can experience hot flushes, headaches, tiredness and sweating," says the motion to be put the union delegates.
Other symptoms can include increased stress and anxiety, as well as memory blocks, which can make it harder for some older teachers to keep up with the latest teaching methods, it adds.
The motion argues that "employers have a responsibility to take into account the difficulties that women may experience during the menopause and that female workers should be able to expect support and assistance during what is, for many, a very difficult time."
An amendment to the motion which calls for the union to support teachers in schools to take action "up to and including strike action", if schools refuse to make suitable adjustments to accommodate the needs of older women teachers, was defeated.
These adjustments could include more flexible employment including temporary part time working and job shares.