Teachers' shock at school stabbing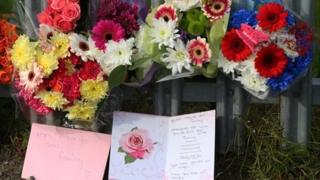 Teachers' unions and political leaders have united in voicing their shock at the fatal stabbing of a teacher at a secondary school in Leeds.
Christine Blower of the National Union of Teachers spoke of the "devastating" and "appalling events" and Education Secretary Michael Gove described it as an "appalling tragedy".
But it will also raise questions about how teachers are protected in school.
And what steps might be taken to prevent any such future incidents?
Head teachers' leader Brian Lightman says that he wants to avoid any premature reaction -and that the first priority is to consider the impact on those directly involved and the school community.
Security checks
"This is shocking, devastating news. Schools are close knit communities and the next few weeks and months will be incredibly difficult as they try to come to terms with what has happened," said Mr Lightman, leader of the Association of School and College Leaders.
Head teachers have often cautioned that inner-city schools can be safer than the streets that surround them. They can be safe havens for youngsters in tough areas.
Schools have increased their levels of security in recent years, often because of fears of teenage knife violence.
Security arches have been used to detect weapons and many schools use CCTV cameras and security gates to control access.
There are also Safer School Partnership arrangements, which create a formal link between individual schools and the police.
These set out arrangements to protect pupils and staff - such as having a full-time police officer based in the school, a clear policy on reporting and responding to violent incidents and having links with other agencies, such as mental health specialists.
These partnerships are also meant to flag up problems, such as bullying, pupils carrying weapons, gang rivalries or the use of drugs and alcohol.
But teachers' unions have repeatedly warned of the threat facing staff in the classroom.
There were 250 pupils caught with weapons in schools in 2013. Although this was a decrease on 2012, when 326 pupils were caught with weapons and 365 in 2011.
The most recent annual figures on exclusions in England show there were 550 pupils permanently excluded from school because of a "physical assault against an adult".
There were also 860 exclusions because of assaults against other pupils.
Earlier this month, the NASUWT teachers' union revealed that almost £21m had been paid in compensation to teachers in the past year, including injuries to staff.
Cases included a female teacher in the West Midlands who received injuries to her face, head, neck, arm and shoulder, as she tried to break up a fight.
The union's general secretary Chris Keates said that "at the appropriate time", the circumstances of the events in Leeds will need to be examined.
But in the immediate aftermath, she said: "Our thoughts are with Ann Maguire's family and with the staff, pupils and whole college community at Corpus Christi Catholic College.
"Occurrences such as this are extremely rare, but this is cold comfort to families who have lost a loved one, staff who have lost a friend and colleague and pupils who have lost a dedicated teacher."
There have also been reactions on Twitter - with condolences from public figures such as David Cameron to personal memories of those who knew Mrs Maguire.
"She was a lovely, special teacher who taught me and my brothers," said one of her former pupils.