Ofsted could inspect private schools, says Gove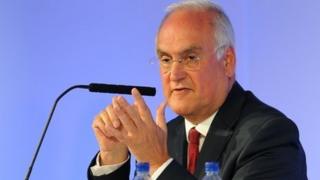 Ofsted should be able to inspect private schools in England, Education Secretary Michael Gove has suggested.
He said Ofsted's chief inspector, Sir Michael Wilshaw, was "the person who is most trusted" on educational standards in England.
Speaking at a conference at fee-paying Brighton College, Mr Gove was asked if he could foresee a single inspectorate.
Brighton College headmaster Richard Cairns predicted a "lukewarm" response to the idea from many private schools.
Currently private schools are inspected by various bodies. The biggest is the Independent Schools Inspectorate (ISI).
Educational standards
Replying to the question, Mr Gove said: "My view is that there are lots of good people who inspect for ISI, but who is the person who is most trusted to, without fear or favour, speak out on educational standards in this country?
"It's the chief inspector, Sir Michael Wilshaw, and I think I'd be interested in feedback perhaps later - but I think it would send a very powerful signal if we were to say that Sir Michael and his team of inspectors would inspect all schools."
Mr Gove also suggested that more teachers from the private sector should serve as Ofsted inspectors.
"I also think it would send a very powerful signal if serving teachers from the independent sector, I know many do, if more were to spend some time serving as Ofsted inspectors."
Mr Cairns, whose school was rated as "excellent" in its last inspection, said weaker private schools "would worry" about a direct point of comparison with the state sector.
He said many in the independent sector would object to being inspected by Ofsted "on the grounds that they would worry that they're being inspected by people coming from very different educational worlds".
"The ISI focus hugely on the world beyond the classroom and Ofsted does that to a lesser extent and I suspect there would be some negative reaction to that.
"My own view is that if Ofsted inspections become lighter, then in reality, you would see very little difference between the two," said Mr Cairns.