Sharp fall in early GCSE entries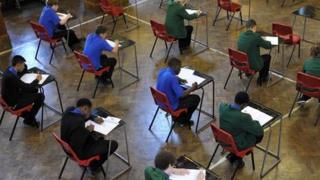 The number of early entries for GCSE exams in England has fallen sharply, says the exams watchdog.
Ofqual has published figures for exams being taken this summer showing a 40% fall in GCSE entries from Year 10 pupils (14 to 15-year-olds) or younger.
It follows changes to how school league tables are calculated so that only the first entry counts.
It means that the overall number of GCSE entries has fallen to 5,089,000 this summer.
With other changes away from coursework and modular units, it is another step towards a traditional summer exam season, with pupils taking exams at the end of a two-year course.
School results
The Ofqual figures show that the number of entries from pupils entering GCSEs a year or more early has fallen from 842,000 last summer to 505,000 in summer 2014.
In GCSE maths, the number of early entries has fallen from 169,000 to 31,000.
The reduction follows a change to the league tables introduced by the Department for Education to discourage early entries.
Only the first entry is now counted, so if a pupil re-takes an exam the following year and gets a better grade this will not show in school league table results.
There had been concerns that schools might have been encouraged to boost their league table ranking by putting in pupils early to "bank a C grade".
There was one exception to this trend away from early entries, with the number of pupils taking English literature a year early more than doubling to 48,000.
The figures also show the continuing impact of the strongly disputed English GCSE results from two years ago - with a further growth in pupils taking the International GCSE exam, the IGCSE.
The number of pupils taking IGCSE English language has risen 93% compared with last year - and there were falls in pupils taking GCSE English literature and language.
There had been a "double entry" trend last year for English, with pupils taking both GCSEs and IGCSEs.
The overall number of entries across all subjects is 5,089,000, down from 5,290,000 last summer.
The Department for Education said that the fall in early entries vindicated the change in the league tables.
The education department said that it addressed a problem where pupils had been speculatively entered for GCSEs in a way that could benefit the school's ranking, but was not in the interests of individual pupils.