NUT teachers' union says no strike in June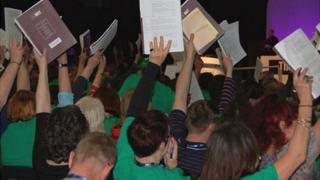 The National Union of Teachers has withdrawn its threat of strike action in England and Wales in June.
The NUT, one of the two biggest classroom unions, says the decision would "allow time to see if progress is possible" in talks with the government.
The NUT's annual conference had voted for strike action over pay and workload in the week beginning 23 June.
But the union says that if there is no progress from talks there could still be strike action on 10 July.
The union suggested that a teachers' strike in July would be held on the same day as strike action by other public sector unions.
'Excessive workload'
There had been warnings that exams were still taking place during the week in June that would have been disrupted.
The threat of the strike had been about claims of an excessive workload for teachers and cuts to pensions.
"Teacher morale is at a low ebb with many working in excess of 60 hours a week for uncertain pay and worsening pensions and conditions," said the NUT's general secretary, Christine Blower.
But she said ministers were now attending talks with the union.
"David Laws was at the last meeting and Michael Gove will attend a future meeting," she said.
Ms Blower said the decision to postpone the strike action would allow the government "several more weeks to demonstrate good faith in the talks".