Exam board 'drops' Mockingbird and Steinbeck after Gove reforms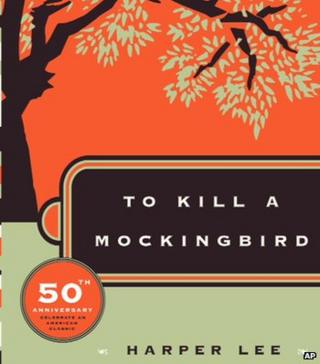 To Kill a Mockingbird and Of Mice and Men are among the US literary classics dropped by a GCSE exam board after education secretary Michael Gove called for more British works to be studied.
Neither book is on OCR's draft GCSE English Literature syllabus in England.
It has also decided to leave out Arthur Miller's The Crucible.
The Department for Education said its document about new content for the subject published in December "doesn't ban any authors, books or genres".
Labour said the changes were "ideological" and "backward-looking".
'Particular dislike'
The new GCSE course content will include at least one play by William Shakespeare, a selection of work by the Romantic poets, a 19th Century novel, a selection of poetry since 1850 and a 20th Century novel or drama.
OCR said the decision to drop the works by the US authors was because of the DfE's desire for the exam to be more "more focused on tradition" and there were fewer opportunities to include them in the new syllabus.
Announcing his reforms last year, Mr Gove also said the new exam questions would be more rigorous and designed to ensure that pupils had read the whole book.
Mr Gove, who studied English at Oxford University, has in the past highlighted his concern that pupils were reading Of Mice and Men in particular.
Paul Dodd, OCR's head of GCSE and A-Level reform, said Mr Gove "had a particular dislike for Of Mice and Men and was disappointed that more than 90% of candidates were studying it".
Steinbeck's six-chapter novella written in 1937 about displaced ranch workers during the Great Depression and Harper Lee's To Kill a Mockingbird have become a mainstay of GCSE exams.
Some academics have pointed out the reason schools opt to study the works is that they are accessible to students across a range of abilities.
But OCR and the other exam boards have had to follow new DfE guidelines when drawing up their syllabuses for teaching from 2015.
OCR's draft syllabus is about to be presented to exams regulator Ofqual for accreditation.
About three-quarters of the books on it are from the "canon of English literature" and most are pre-20th Century.
Pupils will still be able to study modern work by British authors.
Anita and Me, Meera Syal's 1996 story of a British Punjabi girl in the Midlands, and Dennis Kelly's 2007 play about bullying, DNA, are understood to be among the most recent works included in the draft syllabus.
Dizzee Rascal
But a Department of Education spokesperson said: "In the past, English Literature GCSEs were not rigorous enough and their content was often far too narrow.
"We published the new subject content for English Literature in December.
"It doesn't ban any authors, books or genres.
"It does ensure pupils will learn about a wide range of literature, including at least one Shakespeare play, a 19th century novel written anywhere and post-1914 fiction or drama written in the British Isles.
"That is only the minimum pupils will be expected to learn."
It was "now up to exam boards to design new GCSEs", the spokesperson added.
Meanwhile, a Labour spokesperson said: "True to form, Michael Gove is putting his own ideological interests ahead of the interests of our children.
"His vision is backward-looking and preventing the rich, broad and balanced curriculum we need in our schools if our children are to succeed in the future economy."
And Bethan Marshall, chair of the National Association for the Teaching of English and a senior lecturer in English at King's College London, said: "Many teenagers will think that being made to read Dickens aged 16 is just tedious. This will just grind children down."
The announcement from OCR comes after it said earlier this month that sixth-formers taking a new English A-level course it was designing with the English and Media Centre could be asked to study comedian Russell Brand's evidence to a committee of MPs and BBC interviews with musician Dizzee Rascal.
The organisation said the aim of the course was for students to "develop the skills to analyse any text, whether spoken or written, literary or non-literary, in the most appropriate way".
More traditional texts would include Shakespeare, works by George Orwell and 19th Century American poet Emily Dickinson.