Sex education 'not taught properly by schools'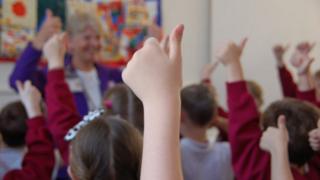 Current legislation on sex education is confusing and allows some schools to avoid teaching the subject beyond the basics, say campaigners.
The Sex Education Forum wants all state primary and secondary schools to teach about consent and relationships.
It argues that all young people should be given the confidence to say "No" and need better knowledge of their bodies in order to stay safe and healthy.
The government says the teaching of sex education must be "age-appropriate".
The Forum says the rules allow too many schools to opt out of teaching the subject apart from "a handful of science topics".
In particular, primary schools "have no obligation to teach vital information help safeguard children from abuse", it argues.
'Inadequate'
The Forum says the National Curriculum covers some basic sex education, such as puberty and reproduction in primary science and the menstrual cycle and reproductive system in secondary science, but says academies and free schools don't have to follow it.
It adds that although state secondary schools have to provide sex education, the only topic they must cover by law is HIV, Aids and other sexually transmitted infections.
Last year school inspectorate Ofsted said the subject was inadequately taught in a third of schools.
The campaign says this won't change until legislation requires all state-funded schools to provide sex and relationships education. This would include academies, free schools and primary schools.
"For too long young people have been telling us about what they wish they had learnt in school about consent and relationships, and how better knowledge of their body and sexual health facts could have kept them safer and healthier," said Jane Lees, chairwoman of the SEF.
Saying 'No'
Daisy Ellis of the Terrence Higgins Trust said: "We have reached a stage where teachers and students agree that the current approach to sex and relationships education is not working."
Ms Ellis said until the subject was "a statutory part of the curriculum, generations of young people will continue to leave school unprepared and at risk of sexual ill health.
"In the 21st Century, approaching sex education exclusively as a biology lesson just won't cut it.
"Young people need to be given an understanding of both sex and relationships, including the confidence to say 'No.'"
A Department for Education spokesman said: "Sex and relationship education is compulsory in maintained secondary schools and it remains for primary schools to decide whether they want to teach it."
He added that the government had funded research into the best way of delivering the subject and how teachers should deal with difficult issues.