Extra 30,000 students funded by higher earnings and tax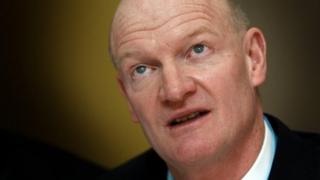 An expansion in student numbers - which will see an extra 30,000 places this autumn - will be self-financing in the long term, says Universities Minister David Willetts.
Higher earnings for graduates will mean higher tax returns, which will fund plans for more students, he says.
A female student with a 2:1 degree will generate £264,000 extra in government revenue over a lifetime, he says.
"Graduates are the engines of our future growth," argues Mr Willetts.
The government is planning to increase student numbers this year - and then to remove all limits on places in the following year.
Mr Willetts says there is funding for an extra 60,000 places in 2015 - but he says that it could continue to grow beyond that, with an upward trend in demand.
"In the longer term, there is a deep trend for more people to go to university. It's not the end of the process."
Tuition fees
But there have been accusations that the loan system, supporting tuition fees of up to £9,000 per year, has proved much more expensive for the government than anticipated and that further expansion was not adequately financed.
The universities minister says increasing university places is not dependent on selling off student loans to the private sector.
He says the student loan system is sufficiently funded to cover the expansion in the short term.
Over the longer term, expanding the number of graduates will mean higher tax returns from increased earning power.
"Graduates continue to earn dramatically more than non-graduates," he says. And the rising number of graduates has not removed the premium on earnings.
According to research cited by Mr Willetts, a female graduate with a 2:1 degree - now the most common degree grade - on average will generate an extra £264,000 in government revenue over a lifetime, compared with a non-graduate.
For a male graduate with the same degree, there is a £221,000 extra gain for the government in higher earnings and tax.
There was also a boost from a recovering graduate jobs market, he said, with the highest employment rates for graduates for six years.
Mr Willetts was speaking as he announced £48m to develop commercial applications for biomedical research. This will support more than 70 research projects.