'Disconnect' in parents' careers advice and jobs market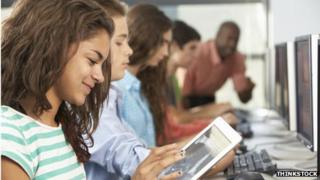 There is a "disturbing disconnect" between parents' traditional careers advice to their children and the needs of the jobs market, research says.
One in 10 of 2,000 parents said they would "actively discourage" their kids from digital jobs such as coding.
But 38% said they would advise their children to take up law or medicine, said O2, which commissioned the study.
The Confederation of British Industry called for UK businesses and the government to boost digital skills.
Parents 'struggling'
Technology firms said there were too few graduates with digital skills, such as web design or computer programming, for the jobs available.
O2 said 23% of parents in the survey thought such skills were "irrelevant".
The mobile phone company said this showed a "disturbing disconnect" between skills in demand from employers and those valued by parents.
Changes to the curriculum announced by the coalition in 2013 are due to come into effect in the autumn.
They include teaching pupils how to write code, and about 3D printing and robotics.
Twice the number of students in the UK took up degrees in medicine compared with computer science between 2012 and 2013, according to figures from the Higher Education Statistics Association.
The firm said it estimated around 750,000 digitally skilled workers will be needed by 2017 to satisfy Britain's "digital potential".
Ann Pickering at O2, said it was "no surprise" parents were "struggling" to keep pace.
Demand for digital
"I'm a parent, and if I didn't work for a technology company I wouldn't realise the opportunities that are out there," she added.
Ms Pickering said young people "viewed the world differently" and were inquisitive.
She said: "It is getting harder to get the skills we require. These are skills that didn't exist five years ago, like with social media, for example."
Hugh Milward, director of corporate affairs at Microsoft, said he "welcomed" the addition of the computing curriculum as it was "absolutely critical" for the success of Britain's young people.
"In the software industry alone there are 20,000 graduate vacancies a year, and only 7,500 computer science graduates to fill them", he said.
"Digital skills such as coding are being demanded not only by the high-tech sector, but by fast-growing sectors like media, publishing and finance."
Change behaviour too
A CBI spokesman said there was "concern" in the business community about employers' ability to recruit people with digital skills.
They added: "Recent reforms to education and apprenticeships are a step in the right direction but more needs to be done by the government and businesses to widen the pathway to higher digital skills.
"We also need to improve careers advice to ensure that young people are aware of what they need for success outside the school gates, in terms of attitudes and behaviours, as well as knowledge and skills."
The European Commission also recently warned that 50% of the population have "insufficient digital skills for today's work environment".