Teachers lobby Parliament about pay and pensions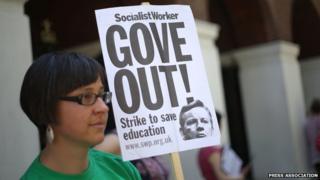 Teachers have lobbied Parliament to highlight their concerns about changes to their pay, pensions and working conditions.
The National Union of Teachers, one of the two biggest classroom unions, said hundreds had attended the event.
The lobby came as a government review recommended a 1% pay rise for teachers from September.
The Education Secretary, Michael Gove, says he intends to accept the review's recommendations in full.
'Worse off'
The leaders of the two biggest classroom unions said the 1% rise would do nothing to make up for continuing cuts to the real value of teachers' take-home pay.
NUT general secretary Christine Blower called the 1% rise "totally inadequate". NASUWT general secretary Christine Keates said it would leave all teachers "worse off".
The NUT lobby was part the union's Stand up for Education Campaign, which has included national and regional strikes.
The union called off a strike planned for the end of this month to allow time to see if progress was possible in talks with the government.
But it says there could still be strike action in July.
Claims of an excessive workload as well as changes to teachers' pensions and the introduction of performance-related pay have contributed to the dispute.
Ms Blower said: "The rapid and ill thought out changes to the education system and to teachers' pay, pensions and working conditions are unacceptable and damaging to the standard of education in this country.
"We know that parents do not agree with many of the education secretary's 'reforms', such as allowing free schools and academies to employ unqualified teachers or the excessive testing of pupils from the age of four.
"Teacher morale is at an all-time low, with many working in excess of 60 hours a week for uncertain pay and worsening pensions".
The union says it lobbied more than 100 MPs including shadow education secretary Tristram Hunt.
Ms Keates said: "The assault on pay, combined with the attacks on teachers' pensions, excessive workload, punitive accountability and job loss are a toxic mix, making teaching increasingly unattractive.
"Resignations from the profession are up and applications for teacher training are down."