Children 'first to sleep in Welsh cave for 3,000 years'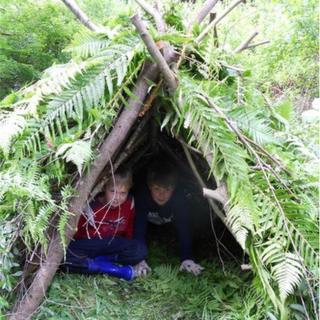 Up to 15 children will be among the first humans for 3,000 years to sleep in a cave near Swansea next weekend.
They are among thousands of people planning to spend a night with nature this week and raise sponsorship for the RSPB.
Some will be in tents in gardens, others will build their own shelters - and the Swansea group will be 600 feet (180m) underground on bare rock.
Ben Rees, 16, from Clydach, said it would be cold and damp but exciting.
'Crazy enough'
Ben, who helps run the Cwm Clydach Kites and Dippers Wildlife group said the RSPB had been looking for a group "crazy enough to camp in the caves - so of course they thought of us - and of course we said yes".
The Dan yr Ogof caves are part of the National Showcaves Centre for Wales, near Swansea.
The group plan to cook a meal on an open fire outside the caves, do a night wildlife walk looking for bats, foxes and badgers - and then be up for the dawn chorus at 04:30.
Ben says he is looking forward to everything apart from "going to bed at midnight and getting up at half four!"
Underground lake
They will spend the night in sleeping bags next to an underground lake fed by waterfalls.
Archaeologists say it was used as a home by humans some 3,000 years ago.
The children are aged from eight to 16 and will be accompanied by four adults.
"I think some of the younger ones might be quite scared but also excited.
"We will tell them all about the history of the caves before we go down there," said Ben.
Other events will see people sleeping on farms, tree houses and in one case building a replica iron age roundhouse on Aylesbeare Common in Devon.
The Big Wild Sleepout aims to help people find out more about wildlife and to raise money to protect it.
The RSPB says garden favourites such as starlings, hedgehogs, butterflies and ladybirds are in serious trouble and face further decline without action to protect their habitats.
Organiser Richard Bashford said: "The Big Wild Sleepout is all about fun and fundraising, but it's also been designed to help children connect with nature and inspire them to care about it".