Schools and business launch 'fair education' alliance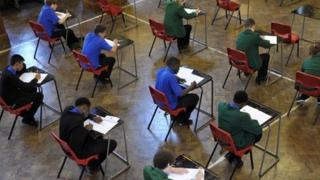 A campaign to tackle educational inequality is being launched by an alliance of employers, teachers' organisations and children's charities.
The Fair Education Alliance will set goals such as narrowing the gap in literacy and maths between rich and poor and in different parts of England.
The National Association of Head Teachers, the CBI, Teach First and Barnardo's are backing the project.
The alliance argues that improving education is vital for the economy.
This project will bring together 25 organisations to set specific targets for reducing the gap in educational achievement between advantaged and disadvantaged pupils.
'Impact goals'
It says there has been a "collective failure" to end inequality in education. "The most recent data reveals a stagnating map of educational inequality," it says.
The project, to be launched at this weekend's Festival of Education at Wellington College, will announce a series "impact goals", which would reduce the social divide in academic achievement.
Founder members also include the National Children's Bureau, National Literacy Trust, National Numeracy, the Prince's Trust, Achievement for All and Save the Children - and it is being supported by government and shadow education ministers.
The first goal is to narrow the gap in literacy and numeracy at primary school. At present, primary schools serving wealthier areas get better results than those serving poorer areas - and the alliance says that it wants to close 90% of this gap.
Showing what is already possible, the alliance says that if all poor pupils across England performed as well as poor pupils in London, that 65% of the gap would be immediately removed.
The second goal is to narrow the attainment gap in GCSE results by 44%. If the levels being achieved by poor pupils in London were replicated across the country, this would already be more than accomplished.
Resilience
The campaign also wants pupils to develop "resilience and well-being", to reduce inequality in staying-on rates and to have more socially equal access to university.
"I believe we are wasting talent on an industrial scale. By joining forces, we can ensure every child has a fair chance in education and life. We know all political parties and parents believe in this mission - it is time to change that belief into united action," said Brett Wigdortz, chief executive of Teach First, which recruits talented graduates into teaching.
"The quality of our schools is one of the most important factors for the future success of our economy and society, so it's essential all our young people get the support they need to fulfil their potential," said John Cridland, director-general of the CBI.
"We must take a long-term approach to improving education if we are to create a world-class system, and the Fair Education Alliance can play an important role in this."
Education Secretary Michael Gove said: "This new campaign underlines the importance of our mission to improve state education.
"Every child should have the opportunity to succeed, regardless of their background. That is why we are investing in the poorest through the pupil premium, setting higher standards for all children through our new curriculum and qualifications, and helping hundreds of struggling schools."
Shadow education secretary Tristram Hunt said: "I have no doubt today's launch, bringing together so many powerful organisations, marks an important milestone in tackling the scar of the country's education divide."