Fewer offered places at chosen schools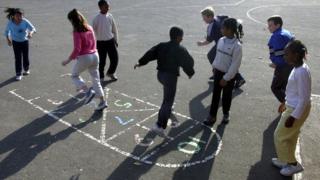 The percentage of pupils in England admitted to their first-choice secondary school has fallen for the first time in five years, figures show.
Some 85.2% of 11-year-olds gained places at their first-choice school this year, against 86.7% last year.
The number of applications for secondary school rose this year for the first time since 2008.
There were 521,274 applications this year, compared with 499,968 last year - a rise of 4.3%.
About one in seven 11-year-olds did not get a place at their first choice school, according to the figures, published by the Department for Education.
The squeeze on places also showed the first fall in five years in the proportion getting any of their top three preferences - 95.5% this year, compared with 96.5% last year - and in the percentage getting an offer from any of their preferred schools - 96.8% this year compared with 97.8% last year.
Families are able to list up to five or six preferred schools on their application forms.
The places are announced on National Offer Day in March.
| Academic Year | First choice school | Top three school | Any preferred school | Total applying |
| --- | --- | --- | --- | --- |
| 2010-11 | 83.2% | 94.9% | 96.6% | 529,645 |
| 2011-12 | 84.6% | 95.6% | 97.2% | 512,193 |
| 2012-13 | 85.3% | 95.9% | 97.6% | 503,734 |
| 2013-14 | 86.7% | 96.5% | 97.8% | 499,968 |
| 2014-15 | 85.2% | 95.5% | 96.8% | 521,274 |
This year saw the first ever National Offer Day for primary places.
In April, parents across England learned which infant school their child would attend from September.
"The increase in birth rates and, following on from that, the pressure on primary school places has been well documented over the last few years.
"Despite this the overall proportion of applicants receiving their first preference offer was higher than at secondary level at 87.7%," note the statisticians.
About 95.7% of four-year-olds got one of their top three choices, with 96.4% gaining a place at any one of their preferred schools.
Postcode lottery
Overall there were 623,526 applications for primary school places this year.
The government says that as this is the first year these figures have been collected centrally there is no comparison data with previous years.
For both primary and secondary applications Londoners found it hardest to get their preferred schools
At secondary level only 70.2% families got their first choice in London, with the lowest results in the London Borough of Westminster at 58.4%.
The highest first choice success rate was in the North East region at 92.4%.
At primary level London's first preference rate was 81.1%. Again families in the North East fared best with 91.5% receiving an offer from their first choice primary school.
A government spokesman said ensuring enough school places for the growing population was a top priority.
"That is why we have more than doubled to £5bn the funding available to councils to create new school places and are allowing new schools to expand without the restrictions and bureaucracy they faced in the past," he said.
The spokesman said this had led to the creation of 260,000 new school places, including 212,000 in primary schools, since May 2010.