Global summit seeks $3.5bn education pledges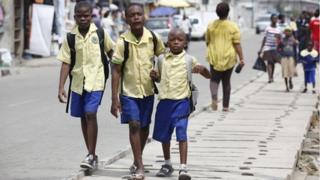 An international gathering of political leaders, aid organisations and United Nations representatives aims to raise $3.5bn (£2.1bn) to support education in developing countries.
The Global Partnership for Education is holding a summit in Brussels, where governments will pledge funding.
Unesco has published figures showing 58 million children without schools, with little improvement since 2007.
There must be no "further inertia", says Unesco chief Irina Bokova.
Along with more than 40 education and international development ministers and 600 official representatives, the summit in Belgium will be attended by Malala Yousafzai, the Pakistani schoolgirl who was shot by the Taliban.
Gordon Brown, the United Nations special envoy for global education, will also be speaking at the event, which will establish funding up to 2018.
Progress stalled
The Global Partnership for Education (GPE) channels funding to 59 developing countries, which in turn will be asked to commit 20% of public spending to education.
In the previous funding round, the UK was the single biggest donor government.
The GPE is chaired by Julia Gillard, former prime minister of Australia.
"It's not donor governments saying, 'Here's a big load of cash'. We require developing countries to increase their spending and to sign up to plans to which they can be held accountable," she told the BBC before the conference.
"We can show from our work that change is possible."
The latest figures on children missing out on school, published by Unesco on Thursday, show the scale of the challenge.
The international community had set a millennium goal that all children around the world would have access to a primary school by 2015 - but the updated figures show this target is likely to be missed and that progress has stalled.
Unesco's monitoring figures show there have been major advances in 17 countries, including Morocco and Nepal - reducing the number of out-of-school children by 90%.
But overall there has been little progress since 2007, says Unesco, with more than 30 million children in sub-Saharan Africa without any education.
'Sound the alarm'
This has been exacerbated by a soaring population and Unesco's report says that of those currently missing out on education in sub-Saharan Africa: "Most of these children will never start school and those who do are at risk of dropping out."
Unesco warns of "critical gaps" in education for older pupils, with tens of millions of youngsters who have dropped out or never started school.
There are reports of projects that have worked, including providing cash transfers for poor families in Nicaragua to cover school costs.
Ghana has doubled education spending and almost doubled school enrolment since the beginning of the century.
Vietnam is commended for improving the quality as well as the availability of education. It now outperforms many Western countries in Programme for International Student Assessment (Pisa) tests.
"These countries face very different circumstances but all share the political will to bring about real change in education," said Ms Bokova.
But the overall picture remains challenging.
As well as failing to keep the millennium pledge to provide universal primary education, there have been deliberate attacks on education, including the abduction of schoolgirls in Nigeria.
"We must sound the alarm and mobilise the political will to ensure that every child's right to education is respected," Ms Bokova said.