Schools face disruption as NUT teachers strike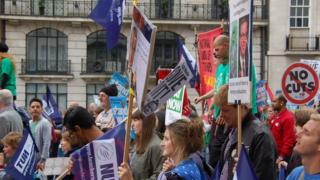 More than a fifth of England's schools were closed on Thursday during a strike by the National Union of Teachers, according to government figures.
The NUT said most schools had been completely or partially closed.
The strike was alongside action by five other public sector unions, but other teachers' unions did not take part.
The Department for Education said there was less disruption to schools than in 2011, the last time teachers and public sector workers staged a joint strike.
It said responses from 96% of schools in England indicated 21% were closed.
A DfE spokeswoman said this was "a huge drop on the 60% of schools which closed the last time unions representing both teachers and support staff like caretakers went on strike".
School closures
The NUT said the November 2011 strike had been part of a TUC day of action in which five other teaching unions had taken part.
"As the only teaching union taking action on this occasion, we would obviously not close as many schools," said the union's general secretary, Christine Blower.
Thursday's strike was over changes to teachers' pay, pensions and conditions but Education Secretary Michael Gove said it was not representative of the views of the teaching profession.
"It's only one teaching union that's on strike. The overwhelming majority of teachers who are represented by teaching unions are not on strike," he said, at an international education conference in London.
The action had disrupted lessons and added to childcare costs, said Mr Gove. He blamed it on an "ideologically-motivated minority forcing the pace. You have the tail wagging the dog".
Schools were closed across England and Wales. Others were partially open as head teachers attempted to lessen the disruption to pupils' education.
Many parents had to find emergency childcare or take the day off work.
In London about 600 schools were known to be affected, with 32 closed in Camden and 83 partly closed or completely shut in Barnet.
More than 100 schools were closed or partially closed in East Yorkshire and Northern Lincolnshire, while in Bradford 105 were affected. Some 146 schools in the Leeds area were shut or partially shut.
In Manchester, about two-thirds were closed and most in Liverpool were shut. But in Cheshire and Lancashire, the majority were open
In Brighton and Hove, 15 secondary and special schools were shut, along with over 50 primaries.
Some 79 schools were affected in Norfolk, and 30 in Luton.
At least 100 schools were closed in Essex, while in Cambridgeshire 27 were closed and 31 partially closed.
In Gloucestershire, 58 schools were affected, while in Somerset 15 schools were closed with a further 13 partially open.
But many local authorities were unable to provide figures on closures as many council staff themselves were on strike.
The NUT walkout followed a national strike on 26 March and regional strikes by the NUT and another teachers' union, the NASUWT, in 2013.
Protest rallies and marches were taking place across England and Wales on Thursday.
'Deep regret'
Ms Blower said teachers "deeply regretted" having to take strike action.
"We are aware that this causes problems and disruption for parents and carers. However, despite months in talks with government officials, the real issues of our dispute over pay, pensions and conditions of service have not been addressed," she said.
"Performance-related pay is not suitable for schools, which work in a collaborative fashion.
"While no teacher expects to work nine to five, many are working 60 hours a week and this is just not sustainable.
"Expecting teachers to work until 68 for a pension will not only dismay teachers but also parents and pupils. Teaching... does require energy and fitness to cope with classrooms of 30 young children or teenagers."
Ms Blower said Mr Gove, could avoid further disruption by "engaging in serious negotiations and making changes to policy".
"Thousands of good, experienced teachers are leaving or considering leaving their job. Ofsted itself says that two in five teachers are leaving the profession in their first five years."
This was a direct result of government policies, she claimed.
'No justification'
The DfE spokeswoman said the industrial action had damaged the reputation of the profession, adding there was no "justification for further strikes".
"The unions asked for talks, we agreed to their request and talks are ongoing. Ministers have also met frequently with the unions and will continue to do so.
"Further strike action will only disrupt parents' lives, hold back children's education and damage the reputation of the profession."
"That is why we are giving teachers more freedoms than ever and cutting unnecessary paperwork and bureaucracy."
The NUT has a membership in England and Wales of 330,700 and of these, 218,000 members are eligible to take strike action as they are active members of the teachers' pension scheme.
Thursday's strike action had been covered by two ballots, the NUT said - one launched in May 2011 and the other in June 2012.
Turnout for the first ballot was 40%, with 92% of these members voting in favour of strikes; in the second, turnout was 27%, with 82.5% voting for strike action.