Troops-to-teachers scheme attracts 102 recruits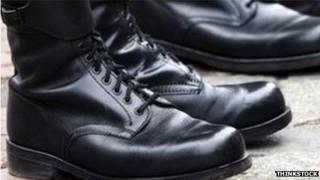 A £2m scheme to fast-track ex-service personnel into teaching has sent 41 trainees to England's classrooms in its first year.
A further 61 trainees will start in September on the Troops to Teachers programme which offers two years' on-the-job training for ex-troops.
Trainees are paid a £12,000-£16,000 yearly salary.
The Department for Education (DfE) said entry requirements were deliberately high to ensure top-quality recruits.
Candidates on the non-graduate programme need good service records and GCSEs at grade C in English and maths. Would-be primary teachers need a science GCSE.
A DfE spokesman said: "We expect the Troops to Teachers programme to go from strength to strength and train exceptional service leavers for many years.
"Ex-service personnel have invaluable skills and experiences to bring in to teaching. They know how to earn respect, motivate and communicate.
"Troops to Teachers will allow troops who have contributed so much to continue their brilliant work - this time in the classroom."
The £2m government investment in the scheme was mainly used for one-off, start-up costs, he added, but acknowledged that the number of recruits so far was not very high.
Shadow education secretary Tristram Hunt said the programme was "an embarrassing failure".
'Motivation'
First mooted in 2010, the scheme is based on the idea that military values such as leadership, discipline, motivation and teamwork are particularly useful for teaching.
It provides recruits with on-the-job training four days a week, with one day reserved for academic study.
Trainees go straight into the school-based programme after a minimum of one week's work experience in a school. They start to teach after spending two terms observing.
After two years, trainees count as "newly qualified teachers" and gain an honours degrees in education, specialising either as secondary school subject teachers or as primary teachers.
Some teaching unions have criticised the entry requirements and the notion that a good service record suggests that a candidate necessarily will make a good teacher.