Nick Clegg: Free school meals may face 'difficulties'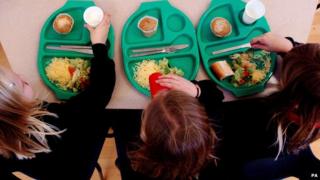 Deputy Prime Minister Nick Clegg says English primary schools may have "some difficulties" in meeting his pledge to provide free meals for under-sevens.
However, he insisted the pledge had been both "well-funded" and "well-researched".
Meanwhile, 34 councils in England told the BBC that they were having to use money from their own budgets to provide the meals from September.
Head teachers have also complained that the scheme will hurt their budgets.
Mr Clegg told the BBC: "Of course there'll be some schools who'll have some difficulties and may not meet the drop-down date in early September to have free school meals delivered exactly as they want on the first day, but it will be a huge change and the vast majority of schools have already told us in government that they're ready."
Free school meals
1.9m
infant pupils in England will be entitled to free school meals from September
£150m
being spent by government to support the plan
34% LEAs replying to R5L survey say they don't have enough cash

£3m shortfall reported by Essex

190 schools in Leeds being asked to help fund changes
Reuters
BBC Radio 5 live's Drive programme asked every council in England how much they received from central government and how much the schools felt they needed to bring their facilities up to scratch.
Ninety-nine of the 152 councils replied, and 34 of these said they did not get enough money to meet their school's needs, despite being told the scheme would be "fully funded" by the government.
Many councils say they are raiding other budgets such as capital and maintenance funds to make up the shortfall, which in some cases runs to millions of pounds. Essex County Council says it is facing a £3m shortfall.
Some councils are passing the costs on to the schools themselves.
In Leeds, schools have been told they must find half of the money needed.
Stephen Watkins, head teacher of Mill Field Primary School in Leeds, said he did not want "to spend too much time sorting out how to be a caterer rather than focusing on curriculum".
He added: "I would have spent this money on tablets and I can't buy them now. It's annoying when you set your budget in April to then be told you need to find this money in May."
Other schools have raised concerns about logistical challenges.
Lynn Knapp, head teacher of Windmill Primary School in Oxfordshire, told the BBC that it would be "tough" to provide free, hot meals for all pupils aged four to seven.
"We know that the kitchen is going to have to have structural changes in order for us to actually cook that amount of dinners. Currently we have the capacity to cook 200 dinners and we're going to have to double that."
The chairman of the Local Government Association's Children and Young People Board, David Simmonds, said: "Councils have been pushing their local schools to ensure readiness but have had to rely on schools coming forward with plans for how they will deliver their new duty.
"While local government supports the free school meals policy, this is a central government initiative and should therefore be fully funded by central government."