Call to align nursery and primary school teacher status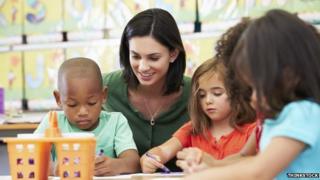 Nursery school teachers should be given the same status and pay as those in primary school, the Pre-School Learning Alliance has said.
It said early-years teachers were being "locked out" of teaching in primary schools, even in reception classes.
Nursery teachers were very disheartened at the government's failure to bring the two sets of teachers' status in line, said the charity.
But the government said the move was "not necessary".
'Matter of priority'
Former Childcare Minister Elizabeth Truss introduced the training of early-years teachers in January 2013 in an attempt to boost their status.
But the measures did not mean early-years teachers had qualified-teacher status (QTS), like those in primary and secondary schools, said daynurseries.co.uk, an online guide to nurseries.
The Pre-School Learning Alliance, which represents 14,000 early-years providers in the private and voluntary sector, says that as nurseries are independent, they do not have the same backing as state-funded schools, so cannot pay the same salaries to their staff.
Neil Leitch, chief executive of the Alliance, said: "We would urge the new childcare minister to look into this issue as a matter of priority.
"The government claims that early-years teacher status is equal to qualified-teacher status, but this is simply not the case."
"As it stands, they are teachers in name only."
Mr Leitch said ensuring early-years teachers were granted qualified teacher status would be an important step in "ensuring parity between early years and the rest of the education sector".
'Different jobs'
Pre-school staff earn on average £17,000 a year, and primary school staff on average £33,000, according to the charity.
The organisation called for a boost to funding for independent nurseries, so they could increase staff wages.
A Department for Education (DfE) spokesman said the two types of teaching were "different jobs", so aiming to make progression from one into the other easier was not relevant.
He said the government was not responsible for the wages offered by independent schools and refused to comment on whether the pay and status could put teachers off.
Teachers 'disillusioned'
But Sue Learner of daynurseries.co.uk said a lack of career progression from pre-school into primary school was putting graduates off getting into nursery teaching.
She said: "[Aligning the statuses] is something that a lot of people want, but the government doesn't want to put the money into early years."
Ms Learner added that teachers were "disillusioned", and as a result children were missing out on the best start to life.
The online guide surveyed 1,009 people on its website and found 78% of those asked also backed the move.
In a statement, the DfE said: "Although there is a need to transform the status of the profession, we don't consider QTS necessary to do this.
"Early-years teachers will have early-years teacher status reflecting the specialist role that they have in working with babies and children from birth to five years."