Many teachers 'lack a grounding in grammar'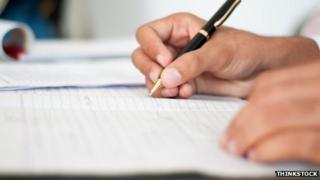 Many young teachers lack a proper grounding in English grammar, a leading independent school head has said.
Girls' School Association president Alice Phillips said many teachers were "at sea with aspects of proper usage".
She also warned, in a Times Educational Supplement article, that teachers needed to be rigorously educated to deliver the new national curriculum.
And she predicted the demands of the new maths curriculum would lead to a shortage of teachers in the subject.
Ms Phillips, head of St Catherine's in Surrey, said: "Many of our brightest, most enthusiastic teachers have little or no grounding in English language or grammar - through no fault of their own - and are completely at sea with many aspects of proper usage."
'Huge dividends'
She added: "Wide reading and a familiarity with formal expression and grammar work to a certain extent, but won't help you in front of a class of 14-year-olds when you are tasked with delving into the mysteries of subordinate clauses."
She said that in her own school, she had introduced a grammar course for first-year pupils after seeing a need for this in language classes.
"It has paid huge dividends," she said.
"In the process of introducing the course, we quickly established that some of our younger teachers have not been taught English grammar in the 90s and [2000s], when they were at school themselves, and, consequently, they feel less confident as they teach, as relatively new learners themselves."
Grammar is a greater issue than previously as from last year separate marks were awarded for spelling and grammar in GCSEs.
Ms Phillips highlighted the difficulty in recruiting good teachers, those with decent English literature degrees and maths specialists.
On maths, she said: "While we undoubtedly have teachers who know the maths, there are not enough of them around to teach the extras.
"If you simply 'do the math' of the requirements for additional teaching time for this extended curriculum, then it is clear that there will be a shortage nationwide of appropriately qualified maths teachers."
This could lead to schools using student teachers who have not studied maths to degree level.
Ms Phillips called for a reduction of university debt for graduates who qualify to teach and complete a minimum of three years of teaching.
Those who stayed in the profession should have all their fees waived after 10 years of working as a teacher, she suggested.
Currently, financial incentives of between £4,000 and £20,000 are offered to those on one-year postgraduate teaching courses.
Bursaries of £20,000 are available for students with first-class degrees who go on to teach physics, maths and chemistry in secondary school.
In medium-priority subjects, such as modern languages, students with a first-class degree receive £13,000. For primary or other secondary subjects, they receive £9,000.