Information gap for university applications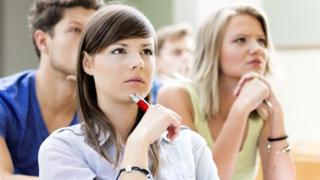 Hundreds of thousands of teenagers and their families will have begun thinking about university for next year.
It's a big, anxiety-inducing decision, but there's a really key piece of information that never seems to be available.
What results do students really need to get into a course? Rather than the marketing pitch, what were the actual entry grades for students in previous years?
It's such basic consumer information that you would assume it must be published.
On the Ucas website there is information showing the grades for a "typical offer".
But this doesn't reveal anything about how much lower than this universities might really stretch.
And ambitious universities will want to project an image that will attract high-performing students.
Does that matter? It does if someone doesn't apply because they don't think they're going to get the advertised grades. Or else if a student enters a course and finds everyone else has much lower grades.
For students thinking about applying, knowing where their predicted grades could get them is a vital piece of information. And although there will be annual differences with supply and demand, the most recent admissions grades must be a very useful measure.
A university vice-chancellor, speaking privately, described the practice as being a bit like the difference between a hotel's official room rate and the price you might really pay on a discount website.
"There's often a good deal of blue sky between the admission tariff that a university advertises and the offers actually made, particularly in clearing," said the university head.
"This applies to a good many Russell Group universities as well, who may well state a minimum of perhaps ABB, but could well take BBC if they have spaces open. With the removal of number controls next year, this could well become more prevalent."
Points range
There is some data published for previous results of people admitted to courses - and this only reinforces the uncertainty.
The Unistats website shows Ucas tariff points for entrants from 2010-12. And even though it doesn't show anything as useful as the actual grades, it shows how much variety there is in entry levels.
Here's a real example, from students getting places to study English at a Russell Group university.
According to the Ucas website, the typical offer for this course is AAB grades at A-level.
But if you look at the profile of those actually getting a place, only 11% fell into the points range for AAB grades.
The website shows entrants in terms of tariff points - 120 for an A grade, 100 for a B grade, 80 for a C grade and so on.
And for people entering this Russell Group university to study this English degree, the points ranged from below 120 to over 600.
It's a huge spread of results. At the lower end it meant someone was admitted with the equivalent of two D grades - and at the upper level someone had better than four A-levels at A* grade. And there are entrants admitted with everything in between.
In another example, a media studies course at a new university, the typical grades are meant to be BBC, but looking at the entry points, many did not seem to have reached those results.
Of course there are other qualifications than A-levels to be taken into account. And any figures need to protect the privacy of individual students.
But there must a simpler, more user-friendly way of showing the upper and lower ranges of those accepted.
Competitive market
After this year's A-level results, the BBC's careers advice expert fielded questions from young people who thought there must have been a mistake because they'd been accepted to courses even though their grades were much worse than required by the offer.
They might consider themselves lucky, but there might be other people aggrieved that they didn't apply because they thought they wouldn't make the advertised grades.
The information gap - or the uncertainty whether information is really marketing material - might be seen as a reflection of the strange transitional status of universities.
They are expected to be in a competitive market, selling courses to consumers for £9,000 per year, at the same time they have a culture of public service and an expectation of transparency.
Should information on entry grades be seen as public information or commercially-sensitive data?
For families trying to work out their best options, it doesn't sound like anyone is going to help provide this information.
The Department for Business, Innovation and Skills, which is responsible for universities, says it has "no involvement with the entry criteria for their courses".
The fair access watchdog Offa says that such admissions decisions are not part of its remit and so wouldn't want to become involved.
Universities UK says it doesn't have such information.
But National Union of Students' vice president, Joe Vinson, says: "I strongly believe that informing students what grades successful applicants were admitted with in previous years would enable current applicants to make a more informed choice."
Teenagers and their parents will be hitting the motorways in the next few weekends as they travel for open days. They'll be shown shiny new buildings, sports facilities, libraries and student union bars.
But they might really want to know what grades are going to get a place.