Schools 'must do more' to help disadvantaged pupils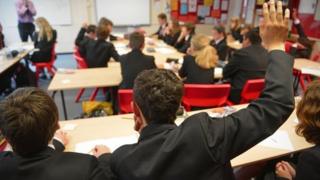 Some schools have "cracked the code" to ensure disadvantaged children excel in the classroom, although more must follow their lead, a study has said.
But the educational attainment of those from poorer backgrounds in England was still "shockingly low", said the Social Mobility and Child Poverty Commission.
And it urged teachers to raise their expectations of these pupils.
A head teachers' leader said attacking schools would not solve "deep-seated issues of social inequality".
"There are no simple answers to tackling disadvantage," said Brian Lightman, general secretary of the Association of School and College Leaders.
'Stalling'
Only two in five disadvantaged teenagers achieve five GCSEs at grades A* to C, compared with more than two-thirds of children overall, according to the researchers' analysis of official figures.
The report argued that some schools bucked the trend, with pupils at one in nine English secondary schools achieving better results than the national average for all children.
It said that if other schools closed this gap, even by half, about 14,000 additional disadvantaged students would achieve the benchmark five GCSEs at grades A* to C every year, a 25% improvement.
"At a time when social mobility is stalling and child poverty is rising, there is an urgent need to share the lessons so that every school can crack that code," the study said.
London was a beacon when it came to strong attainment by poor pupils, the report said.
However, it stressed there were schools across the country where poor pupils outperformed the national average for all children.
The report, one of a series on how different parts of society can improve social mobility, urged teachers to raise their expectations of pupils from poorer backgrounds.
High expectations
It surveyed 1,100 teachers, finding most had high expectations of disadvantaged pupils - although 21% said some colleagues had low expectations.
Other suggestions included:
an "incessant focus" on the quality of teaching
strategies to engage parents
preparing students for life, not just for exams
using the pupil premium payment for poorer students "to tackle barriers to attainment"
"Some schools are proving that deprivation needn't be destiny," said commission chairman Alan Milburn.
"They have cracked the code on how to improve social mobility by helping disadvantaged children to excel in education.
"If some schools can do it, there is no excuse for others not to," he added.
"Head teachers and governors have a responsibility to ensure that every teacher in every school has uniformly high expectations of their students.
"Our polling suggests the vast majority of teachers expect the best from every pupil, regardless of background, but in some schools low expectations of disadvantaged students remains a problem."
Mr Lightman said there was "no excuse for low expectations anywhere in the system".
"Schools must have the additional support they need, from the government and from other agencies, to help children overcome the challenges that life throws at them," he added.
Among the obstacles to ensuring students from disadvantaged backgrounds succeeded were difficulties in recruiting staff for schools in the most challenging areas and constant changes to the exam system, he said.
Child poverty
Chris Keates, general secretary of the NASUWT teachers' union, said schools alone could not secure social mobility.
"Politicians need seriously to tackle child poverty. There are now 3.5m children living in poverty and the figure is set to rise if this government's social and economic policies continue."
Tristram Hunt, Labour's shadow education secretary said the government had changed the rules to allow unqualified teachers into the classroom which had watered down teaching standards.
"We will deliver a qualified teacher in every classroom and require all teachers to undertake training on an ongoing basis as a condition to remaining in the classroom."
A Department for Education spokeswoman said: "The attainment gap between rich and poor is narrowing faster today than when this government came to power.
"We know there is more to do, but this report proves that the best state schools can overcome disadvantage thanks to our reforms and the work of skilful, dedicated and hard-working teachers who put our plan into action."