Henry Dimbleby's mission to replace bagels in school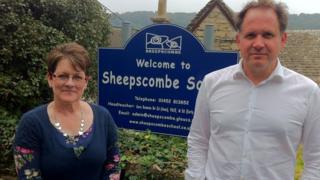 Nearly all schools in England are now serving hot lunches to children aged four to seven. But implementing the government's policy has not always been easy. We took one of the policy's architects to a school which is serving up bagels.
We are in a small school, a very small school. It has a grand total of just 33 pupils.
It is lunchtime and, as the children begin to eat, Henry Dimbleby is looking at a bagel filled with turkey. There are plastic pots containing carrots and cucumbers too. And there is some fruit.
He is with the head teacher, Sara Bennion. "What do they charge you for this?" he asks.
On hearing the answer, he looks pained. He is told the meals cost £2.95 per head and the school has to pay another £15 a day for them to be delivered by taxi.
He is not particularly impressed.
"I've seen a lot of school food", he says. "That feels like a lot to be charging. Eating this everyday would be quite uninspiring", he concludes.
Sheepscombe Primary School sits on a hill in a village in Gloucestershire.
We have brought Mr Dimbleby along to look at the school's lunches because he is a sort of posh version of Jamie Oliver.
He is the joint founder of the Leon chain of fast-food restaurants and co-wrote the government commissioned but independent School Food Plan.
That recommended free lunches for all primary schools in England and, although the government decided not to go that far, it has introduced free meals for infants.
Nearly all state schools in England with children between the ages of four and seven have managed to do just that and are providing hot meals.
However, a small number of schools have struggled and are serving up cold food.
"We've tried nearly everything" Mrs Bennion explains. She became head teacher here in 2013 and has taken it from "special measures" status to being rated "good" by the inspectors from Ofsted.
Free meals
She is a supporter of the universal infant free school meals policy, which came in last month.
"We're not being difficult", she tells Mr Dimbleby. "It's just there isn't a slush fund somewhere".
The school has been provided with money to help introduce school meals but it is having to use that to subsidise the cost of its cold lunches, which it gets via the local secondary school.
Mr Dimbleby, son of the broadcaster David Dimbleby, sees a problem.
"So at the moment you're worried that when the transitional funding runs out next year, you won't be able to do even what you're doing at the moment?" he asks. Sara confirms that is "a concern".
As one of the architects of the government's school meals policy, Mr Dimbleby wants very small schools like this to be able to continue to receive financial help beyond this academic year.
The government has told the BBC it is looking at that but will need to see evidence that the extra cash is needed.
Pizzas
Henry asks the children if they would like to have hot meals instead of their sandwiches. Most say yes. One shouts out it would be "awesome" because "there's pizza".
Outside in the playground, in his rather creased white shirt and bright yellow watch, he takes in the beautiful views across the Gloucestershire countryside. The location, though, is part of the problem.
"To get food to us, particularly in the winter, is tricky", Mrs Bennion explains.
There is one possible solution just a short walk away - the local pub.
The Butchers Arms already supplies the school with hot food once a week - its popular fish and chips. The landlord, Mark Tallents, also happens to be the school's chair of governors so is very keen to help. The problem is that just might not be possible.
The school's lunch hour happens to be at a busy time of day for the pub, when it is serving its own lunches.
"I'd like to feel if I could do it I would", he tells Mr Dimbleby. "Maybe if we could arrange a more convenient time for it to be ready and at the school for twelve o'clock?" he asks.
Toilet becomes a kitchen
The neighbouring school, Cranham Church of England Primary, has managed to introduce hot meals. It has built a kitchen in what was a disused toilet turned storage cupboard.
What works for one school though, does not necessarily work for another.
"Having a class responsibility as a teacher - that's the difficulty I would find, in terms of me generating time to be able to do that," Sara tells Henry.
Having assessed all the options, Mr Dimbleby leaves for London, hopeful that a solution can be found.
"I definitely think they should be able to get something in, at the latest, next term", he says.
And he promises to return. Mrs Bennion is pleased.
"I think it would be good for Henry to come back", she tells me. "But also to be involved in the journey in us getting there. That's the bit that I need. That's the bit that I want out of it".
And the early signs are that Mr Dimbleby's visit has already had an effect. The school tells me it is now looking at a "possible solution". Watch this space.