Online Mooc courses deliver Ebola health advice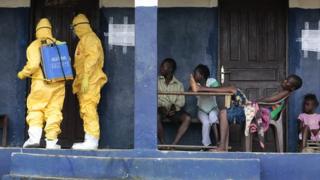 Online courses are delivering health advice about preventing the spread of Ebola to thousands of people in West Africa.
The so-called Mooc providers - massive open online courses - are using their reach to provide information about the deadly virus.
So far, 10,000 people have completed a free online course, Understanding the Ebola Virus and How You Can Avoid It.
The provider, Alison, has 250,000 students using courses in West Africa.
The Ebola outbreak has caused 3,400 deaths, mostly in West Africa, and the online course teaches about the signs and symptoms of infection and how to avoid getting infected.
Rapid response
The course, which can be accessed on a mobile phone, is aimed at people living in regions affected by the virus and there are assessments on how the virus can be transmitted and treated.
There is a French language version, produced with the help of the Federation of Medical Students of Africa Association, and an Arabic version is also to be published.
Mike Feerick, chief executive of Alison, says online courses have been able to respond rapidly to the need for information.
"If new information is discovered about Ebola, or how to treat or avoid it, we can instantly relay it to a huge number of learners worldwide," he says.
Based in Ireland, Alison is one of the biggest Mooc providers outside the United States, with a big reach in Africa, where it has about a million learners.
"There are new highly effective, scalable and free solutions that can be helpful in this situation and we cannot wait for huge bureaucracies to respond as we would like."
Mr Feerick says Moocs can deliver information to large numbers of students, rather than waiting for "institutions of old to help us educate ourselves".