Call to encourage graduates 'to stay local'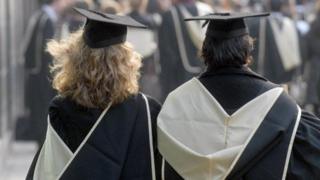 University leavers should be offered a "golden handcuff" to stay and work locally after graduation, a study says.
The report by the RSA think-tank says graduates should be given advice on jobs and housing and should be matched with local employment opportunities.
The research assesses how higher education can play a larger role in stimulating local economies.
It says universities, which receive public money, have a responsibility to encourage local growth.
In a foreword to the report - Univercities: The Knowledge to Power UK Metros - Jim O'Neill, chairman of the Royal Society of Arts City Growth Commission, said relatively low numbers of graduates stayed in the cities where they had studied for a degree.
He said currently many graduates either disappeared "back overseas or down to London to employ the fruits of their enhanced minds elsewhere".
"Surely it would be sensible to consider pursuing a number of initiatives to either help or encourage graduates to stay in the metro areas where they graduate, as a key ingredient to helping these cities prosper?"
'Golden handcuffs'
The research calls for more help for employers to pool resources so they can offer "golden handcuffs" over a range of industries and sectors to those graduates who commit to working in an area for a set number of years.
It suggests that local councils and other groups could run "ReFreshers Weeks" with universities campaigning for students to stay in the area after graduation by offering job advice, help to find housing and matching individuals with job opportunities.
There could also be a "graduate clearing system" which takes rejected graduate recruitment applications and sends them on to local firms that have jobs available.
"Producing graduates on your doorstep, rather than seeking to attract them following graduation, is an opportunity for metros [regional cities]," the study says.
Report co-author and RSA senior researcher Jonathan Schifferes said: "Universities are key economic assets in every major UK city - our objective should be that their global competitiveness is reinforced through their metro contribution.
"The UK's university system is already world-leading, but we can continue this excellence whilst becoming metro-focused, drawing on the opportunities which our great cities bring to universities, their students and faculties."