Academy trust 'backs Ofsted inspections'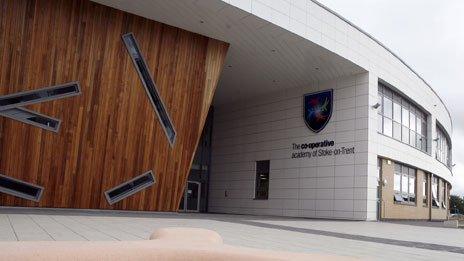 An academy trust says it wants to be open to inspection by Ofsted, after the education secretary appeared to rule out allowing the watchdog to examine groups running academies.
The Co-operative Academies Trust has written to Nicky Morgan and Ofsted chief Sir Michael Wilshaw offering to "open doors" to any inspection.
Ofsted can inspect local authorities but not the groups themselves.
The Co-op trust director Frank Norris says regulations should be the same.
His letter is the latest intervention in an argument about the oversight of academies.
He says his trust, which oversees seven schools, should face the same standard of checks as local authorities and calls on other academy trusts to invite inspections from Ofsted.
"I see no good reason why these central functions should not be subject to regular inspection in the same way school-improvement functions in local authorities are inspected," said Mr Norris, who is a former senior inspector with Ofsted.
"I am also dismayed at the limited comment from academy chains about this issue.
"I have been inspecting schools and local authorities since 1995 and I know how important inspection is to drive up standards," said Mr Norris.
Schools in his own trust were improving and academies should have nothing to hide from such scrutiny, he added.
A majority of secondary schools in England are now academies, operating outside of local authority control.
But while Ofsted has been able to inspect the quality of services provided by councils, inspectors have not been allowed to monitor the groups running academy chains. Instead they have been restricted to inspecting individual academy schools.
Sir Michael, Ofsted's chief inspector, has warned publicly that this creates a gap in accountability and has called for inspectors to be able to check academy trusts.
The question of the monitoring of academies was also raised by the so-called Trojan Horse scandal in Birmingham, with warnings about a lack of oversight.
But Education Secretary Nicky Morgan has resisted arguments to let Ofsted inspect academy trusts, saying sufficient monitoring powers already exist to examine the "constituent parts".
"They have the powers," she told MPs on the education select committee last week.
"I'm not in the business of producing more legislation to do something that the inspectorate can already do."
Related Internet Links
The BBC is not responsible for the content of external sites.