Sheffield University abolishes library fines for students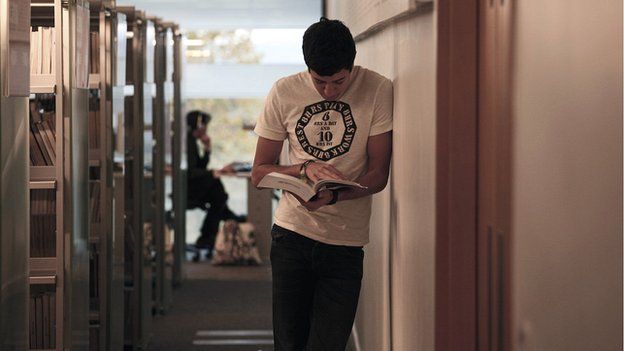 A university has scrapped fines for overdue library books, marking another step in the move towards students being seen as consumers and customers as well as scholars.
Until recently an unpaid library fine was sufficient to stop a student from graduating from many universities.
But from this term the University of Sheffield has removed the threat of fines for library book laggards.
The university says getting rid of fines is "fairer and more efficient".
Library fines have been a contentious issue for universities, which are now keenly aware of the need to attract students and to improve the "student experience".
Earlier this year the Office of Fair Trading wrote to universities saying that they could be breaching consumer law by refusing to award degrees to students with outstanding non-academic debts, including library fines.
The watchdog warned that about three quarters of universities operated such a tough policy.
The National Union of Students said it was "incredibly unfair" to prevent students from graduating because of unpaid library fines.
But now the University of Sheffield has taken a step in the other direction, by scrapping fines completely.
"We know you hate receiving fines, and we're not keen on giving them either," says the university library website.
The university, which has made a strong selling-point out of students enjoying their time there, is introducing a system in which books will be automatically renewed until someone else requests them.
Students will then be asked to return the book - and the only sanction will be that students will not be able take out any more books until they return the one that is due back.
Alison Little, assistant director for library customer relations, said getting rid of fines, which could be up to £2 per day per book, would create a more welcoming and more "user-friendly" library.
The fines did not really serve a useful purpose, she said, they could cause "friction" and some students seemed to be ready to pay the fines to keep the books they wanted.
Libraries have also become part of university open days, with facilities shown to prospective students and their parents.
Not only are university libraries now expected to be hubs of technology, they are under increasing pressure to be always available.
Many university libraries, particularly in the exam season, are open 24 hours a day. It is not unusual to see universities crowded in the early hours of the morning.
The University of Sheffield says its removal of fees has already generated "positive feedback from students".
Yael Shafritz, president of Sheffield's students' union, said that she hoped it would create a culture based on trust.