Pupils will study two religions in new 'broader' RS GCSE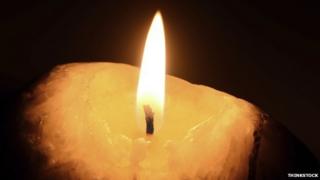 Pupils in England will have to study two faiths under government proposals for a new "more academically rigorous" religious studies GCSE.
The aim is to ensure pupils have a strong understanding of the central role of religion on British culture, says the government.
The plans have been welcomed by leaders of major faith groups.
"This GCSE will better prepare students for life in modern Britain," said Education Secretary Nicky Morgan.
The Department for Education says it has worked closely with experts from "all the major faith groups" to develop the qualification which is due for first teaching in September 2016.
'Sources of wisdom'
Under the proposals, pupils will study "the beliefs, teachings and sources of wisdom" of at least two religions for the first half of their GCSE.
The second half of the syllabus will allow pupils to study one or both in depth: looking at religious practice, religious texts and how faiths tackle philosophical and ethical issues.
Students may choose from Buddhism, Christianity, Catholic Christianity, Islam, Hinduism, Judaism and Sikhism.
The option to study a humanist or non-religious world view is not included in this list, provoking criticism from groups including the British Humanist Association and the Religious Education Council (REC) of England and Wales.
Students will not be able to combine Christianity and Catholic Christianity as the proposals state that where a religion is studied from the perspective of a denomination, the second option must be from another principal religion.
The government says the new GCSE will be broader and more demanding than the existing GCSE but will still allow faith schools to emphasise their individual teachings".
"It is of paramount importance that young people understand the central importance of religion in Britain's cultural heritage and high quality religious education in schools is key to achieving that," said Mrs Morgan.
"Every major faith group agrees that the current religious studies GCSE fails to do this.
"That's why we have developed a new GCSE that, while protecting the right of faith schools to focus primarily on their own religion, will require students to demonstrate knowledge and understanding of the diversity of religious beliefs in Great Britain."
The Church of England's chief education officer, Rev Nigel Genders, said it was "hard to overstate" the importance of equipping young people "with a challenging and rigorous education which includes religious literacy".
"That is why it is so important that we have a broad, demanding GCSE."
'Respectful'
Hamid Patel, chief executive of academy sponsors, Tauheedul Education, said: "The best schools, including faith schools like ours, already teach religious education in a broad and respectful way.
"This ensures our pupils have a real knowledge and positive understanding of all the different faiths in our multicultural society."
Sikh, Hindu and Jewish educationalists also welcomed the proposals, however Andrew Copson chief executive of the British Humanist Association urged the government to reconsider its decision to exclude humanism.
"We are deeply disappointed to see no annex on humanism in the criteria.
"Inclusion of an optional module on humanism would have been just that - optional - and schools could have decided to cover it or not. But under these criteria they won't even have that choice.
"Forty years of progress in RS, including last year's RS curriculum framework, make it clear that the systematic study of humanism contributes to making the subject both rigorous and relevant."
Dr Joyce Miller, chairwoman of the REC said the board had "agreed unanimously that the optional systematic study of a non-religious worldview should be introduced at GCSE level.
"We want to promote a rigorous and inclusive study of religions and beliefs that is relevant and challenging for young people of all faiths and none."
A DfE spokeswoman pointed out that the syllabus requires students to "demonstrate knowledge and understanding" of the diversity of religious belief in Britain which, as well as the major faiths, includes "other religions and non-religious beliefs".
A consultation on the proposals will run until the end of December, both groups are urging their members to respond.