Language lessons 'should aim for more than phrasebook competence'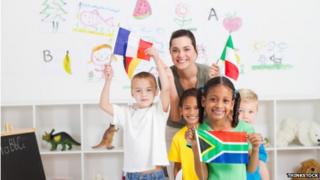 Language teachers should aim beyond "functional phrasebook competence" and encourage self-expression in pupils, a leading headmistress is to say.
Bernice McCabe, headmistress of North London Collegiate School, will say teachers should be "a thorn in the side of British insularity and reticence".
Her comments will be made at the start of a course for language teachers run by the Princes Teaching Institute.
The aim is to bring "new life" into language lessons, Mrs McCabe says.
In her remarks to be made on Saturday, Mrs McCabe, who is also co-director of the Princes Teaching Institute, acknowledges that the obstacles "are many".
She says a lot of schools are put off from offering language qualifications by "the perception that top grades in languages are harder to obtain than in many other subjects".
'Cultural confidence'
She will welcome exam regulator Ofqual's plan to change the way language papers are set and marked, which it is believed may encourage a greater uptake of languages at GCSE and A-Level.
"However we are not here to wring our hands over the demise of language teaching but to look for ways of giving it new life and prominence," she will say.
"The best teachers represent for our pupils a cultural confidence and an outward looking perspective on the world, a world with which they will connect much more than previous generations.
"Not just in terms of gap years spent travelling and global companies for which they may end up working, but a world full of new drama and music, shared concerns for the environment and political stability, the opportunities to share international experience and make friends.
"The best language teachers do not follow pre-digested workbooks aiming at functional phrasebook competence.
"They help our students understand the richness of human communication, develop the desire for self-expression and immerse themselves in other cultures," she will say.
'Global citizens'
Mrs McCabe will advocate travelling abroad to expose pupils "to the need to communicate in a language other than their own".
But if this is not feasible teachers should pool ideas and suggestions for activities to "bring the study of languages to life and make them seem more attractive".
Vicky Gough, schools adviser at the British Council, has welcomed Mrs McCabe's comments.
"We need teachers who can bring the world into the classroom and help our young people to become global citizens," she says.
"It's really important that we don't just teach languages in isolation, but as part of a wider cultural education. Learning a language isn't an end in itself - it's the key to understanding another culture and building important relationships with the rest of the world."