Divorce 'damages children's GCSEs'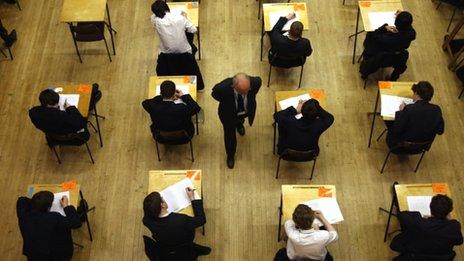 Family breakdown has a damaging impact on children's exam results and personal life, according to a study from family lawyers' association, Resolution.
The research found 65% of children of divorced parents thought their GCSE results had been adversely affected.
There were also health concerns, with an increased likelihood of experimenting with drugs and alcohol.
Jo Edwards, Resolution chairwoman, said it showed the importance of managing separation to "minimise the stress".
The lawyers' group, which commissioned the poll of more than 4,000 adults and 500 young people across the UK, found that the emotional impact of divorce had a far-reaching and long-term impact on children.
This included getting exam results that were worse than expected - with 65% saying it had harmed GCSE results and 44% saying that A-levels results had suffered.
A factor in this could be the disruption of having to move school, with 15% reporting this after a divorce.
But there were also emotional problems, with pupils saying they found it harder to focus on homework and coursework and an increased likelihood of getting into trouble at school or playing truant.
And young people reported the direct pressures of getting caught up in acrimonious separations.
Almost a third of children said that parents were trying to "turn them against" the other parent and about a quarter said that parents were deliberately trying to involve their children in the dispute.
It also had an impact on the wider family, with a fifth of young people losing all contact with a grandparent.
Russell Hobby, leader of the National Association of Head Teachers, says that families often turn to schools for advice following a break-up and that "no two children will react in the same way".
In terms of the impact on exam results, he said it can be particularly "destabilising" if parents separate close to when exams are being taken.
"In some cases the break-up of a relationship can leave the children involved with feelings of low esteem and depression," said Mr Hobby.
"Crucially, the support that used to be available to schools and parents, via the local authority and voluntary sector, have dropped away due to continued funding cuts and cost saving."
Brian Lightman, leader of the ASCL head teachers' union, said the findings will "resonate with school leaders".
"Teenagers sometimes put on a brave front in the face of family breakdown, but the emotional impact can run deep. Children react in different ways but it can lead to disaffection, changes in behaviour, loss of motivation or in some case mental health issues.
"All of these affect their school work. Counselling and other forms of support can be a great help but, with budgets being cut, schools are finding it harder to access this kind of support for students."
According to Resolution, which represents 6,500 family lawyers, there are 100,000 children every year with parents who divorce.
"These new findings show the wide-ranging impact of divorce and separation on young people," said Jo Edwards.
"It underlines just how important it is that parents going through a split manage their separation in a way that minimises the stress and impact on the entire family, especially children, otherwise their exam results could suffer.
"Divorce and separation are always traumatic, but there is a better way to deal with it," she said.