'No second chances' in England's schools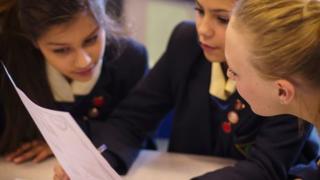 England's children are being taught in an "unforgiving system" with "no real second chances", says the president of the Girls' Schools Association.
Alice Phillips, said her "younger self" would have been "written off" by the education system being created today.
She described a lack of "wriggle room" and "an intensity of expectation" in the new GCSE grading structure "that is greater than ever" .
The government said it aimed to give pupils the time to study in depth.
The GSA represents the head teachers of many of the top performing independent day and boarding schools in the UK.
Speaking at the association's annual conference in London, Mrs Phillips said she had not achieved a glowing set of O-level or even A-level grades, but had been given a second chance by the seventh-term Oxbridge entry examination.
'Infernal grade requirements'
This was an arrangement, in place until about 20 years ago, under which some post-A-level teenagers returned for an extra school term during the summer to prepare them for Oxford and Cambridge entry exams.
She said: "Today, my younger self would be written off at the age of 16 by the unforgiving system we are creating - a system with no real second chances, no wriggle room or place to make amends.
"As I work to inspire the young women in my school and watch them trying to measure up to those infernal grade requirements at such a relatively young age, I am outraged because I, too, am required to 'play the system' to help them fulfil their ambitions."
She was referring, in part, to plans to split AS-levels (now effectively the first year of A-levels - but a separate examination and qualification in its own right) from A-levels, which are becoming two-year courses with exams at the end.
Universities often base their offers to candidates on their AS-level grades along with predicted grades.
Ministers have also limited the number of exam retakes pupils can sit.
The changes, she said, were likely to "erode the breadth of subjects young people study". She added: "Gone will be the halfway house - reassuring affirmation or 'call to arms'."
'Perfect scores'
She argued universities would be "forced to refer back to GCSES as the best indicators of a student's degree potential".
She also highlighted the "intensity of expectation" that youngsters would feel from the new GCSE grading structure.
"Many of them will aspire to achieve a GCSE [Grade] 9. Is that really what we want, in their first public examination?
"And how long before that scale extends to the 'Perfect 10' with all the connotations that holds?
"Education for me is about so much more than perfect scores."
It is expected that the new Grade 9 will be awarded to about 3% of candidates in England.
Responding to Mrs Phillips' speech, a spokesman for the Department for Education said: "Returning exams to a linear structure means students will no longer have to endure the exam treadmill of constant testing.
"By decoupling the AS-level from the A-level, we are ending the routine of automatic, external assessment of students at the end of Year 12.
"Students will still be able to sit an AS before deciding whether to take a subject at A-level, but will no longer be required to do so by the government.
"Instead, we are moving the balance of power away from Whitehall and back to teachers by allowing students and teachers to make that decision."